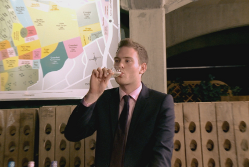 We're in another transport hub this week on The Apprentice — and still no sign of an away-day anywhere. Lord Sugar has called the troops together at the champagne bar at St Pancras station. It's six in the morning. Bit early isn't it Lord S?
This week's task is to raise the profile of English sparkling wine. Know-it-all Tom can't hide his excitement — he's a wine connoisseur. Ricky, meanwhile, says he's only had a couple of glasses of wine in his life. "I hate the stuff", he says.
Guess who the project managers are this week? Yes that's right. It's Ricky and Tom— or David and Goliath as Ricky sees it. But will the underdogs win?
The teams get a reshuffle and look like this:
Team Pheonix: Tom, Nick, Adam and Jade
Team Sterling: Ricky, Stephen, Jenna and Gabrielle
Each team has to create a website, produce a TV advert and come up with logos and taglines. Sub-teams are created and the responsibilities are divided up. On team Pheonix, Tom and Adam go off to get drunk (I mean taste wine) and Nick and Jade do some real work designing the website.
The sparkling wine advert calls for a touch of class. But neither team gets anywhere close. Adam and Jade come up with a dinner party scenario. Adam calls himself the "choreographer" but there's not a dancer in sight. I think he means director. He tells the actors to "just touch each other up a bit" — he's talking about hair and make-up by the way.
On team Sterling, the brief for the TV ad from Gabrielle was "quality, quality, quality". But Stephen and Jenna are making an ad that's more cheesy than an ad for English cheddar. It's a wedding scene and the bride practically spits out the champagne, calling for English sparkling wine instead.
The judge and jury in this task is a panel of experts at Bibendum restaurant. They like some aspects of the campaigns — especially team Sterling's tagline, "Less fizz, more sparkle". But that can't save them from the car crash that is their advert.
Mind you, Lord Sugar's not that keen on the other advert either. He calls it, "www dot yawn dot com".
But team Sterling's ad is much, much worse. So it's off to the loser's café. It's a grim place, that café. Empty, grey, cold — everyone keeps their coats on — and those awful polystyrene cups of tea. Stephen sums it up: "It was a bad day at the office, it's as simple as that."
When they get back to the boardroom, Lord Sugar is still fuming about the ad. "I didn't tell you to make a carry on boozing movie," he says. Who is responsible for that "piece of rubbish" he asks.
Gabrielle gives her own version — in some depth it has to be said — with Stephen trying to trip her up by saying, "specifics Gabrielle please". Be careful what you wish for Stephen.
So who gets the chop? It's a choice between Ricky, Stephen and Jenna. Somehow, Jenna's taking all the blame for the ad and slippery Stephen seems to have got away with it. And so it's Jenna that is the sacrificial lamb this week.
In classic style, Lord Sugar, then turns to Stephen. "You are this close to going outside that door," he growls. "You've thrown the gauntlet down. You are going to project manage next and I expect you to win. You don't even know what the task is."
Next week: Stephen gets his toes nibbled by tiny fish. Bring it on.
Find out more about the candidates on the BBC Apprentice website: http://www.bbc.co.uk/apprentice
Highly recommended: Matt Edmondson's hilarious Funny Bits video review on the Apprentice website.