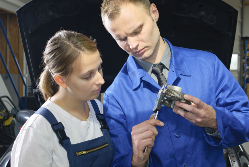 My company BCSG recently conducted some research to understand the attitudes smaller companies have towards hiring apprentices. We thought the results might be interesting in light of the government's appointment of entrepreneur Jason Holt to review the success of UK apprenticeship schemes.
Most businesses have never had an apprentice
I was surprised to uncover that 78% of the small business owners we surveyed have never hired apprentices to join their workforce. They don't have any plans to start, either. When asked what was stopping them, 44% said the associated training costs were too high and 30% said the red tape was too complex.
This perhaps explains why the government has recently introduced a flurry of new measures to encourage small businesses to hire and train apprentices:
Jason Holt is working to improve how apprenticeships are marketed to businesses. He's also exploring how to cut red tape to make it easier to take on and train apprentices.
Small companies are being offered a £1,500 incentive payment to take on their first apprentice aged 16 - 24. Around 20,000 small firms are expected to take advantage of the funding, which is being managed by the Skills Funding Agency.
From August 2012, small businesses taking on apprentices will be required to employ them for a minimum of 12 months in an effort to raise the bar on apprenticeship standards.
I hope these measures help to boost apprentice recruitment, because although hiring apprentices may seem an expensive and labour intensive process, these aspiring business stars can make valuable contributions to the small business market:
They're enthusiastic. Apprentices are generally keen to get stuck in, prove themselves and learn as much as possible, bringing a fresh boost to the company.
They're loyal. When you invest time and money training apprentices, they feel motivated, valued and grateful to join a skilled team. This increases the chance they'll remain with the company for longer.
They have new ideas. Trainees often bring fresh perspectives and innovative solutions to business challenges. This input can play a vital role in keeping a business flexible and relevant.
John Davis is managing director of Business Centric Services Group.