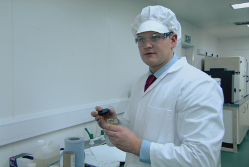 Burlington Arcade is the snazzy location for this week's briefing on The Apprentice.
As ever, Lord Sugar is flanked by his loyal side-kicks, Karren Brady and Nick Hewer. Their brief is to keep schtum and communicate using facial expressions. Karren only has a couple of looks — eyebrows down for disapproval and eyebrows up for a look of gob-smacked wonderment. Nick, of course, is the Marcel Marceau of facial mime and can say almost anything with his flexible face. Mind you, Ricky could give Nick a run for his money with his dancing eyebrows.
This week's task is simple — come up with a luxury brand that can be sold at affordable prices. Lord Sugar moves Tom over to team Sterling to keep Ricky company. That leaves Adam, Nick and Jade on team Phoenix.
Adam leads his team and they quickly settle on the idea of up-market chocolate. Meanwhile, Tom seems quite happy to let Ricky lead — or perhaps hang himself — and the boys decide to develop a men's grooming range.
This task covers the full gamut of marketing tasks — product development, branding, packaging, promotion and pricing.
Tom and Ricky's male grooming range is called Modern Gentleman. They get a lot of things right — the products are suitably luxurious, there's a clear market for them, the pricing is right and they've got a strategy that includes exports and a boutique flagship store.
The only problem is the design and packaging. It's utterly dull. Nick Hewer calls it "pedestrian". And the store they create is so minimalist that Lord Sugar says it looks like a "closing down sale". The expert judges, who include buyers from House of Fraser and Debenhams, call the brand "forgettable".
On team Phoenix, the ideas are coming in thick and fast — hot chocolate on a stick, boozy jellies, cocktails to serve with the chocs. They're all great ideas in theory but there's no cohesion. The brand name Sweet Thing seems to go down well. But they've got the numbers wrong and when Lord Sugar picks apart their strategy he finds it would actually be a loss-making venture.
So team Sterling has the better business proposition and it is Adam, Jade and Nick who are in the firing line.
As it is late, Lord Sugar suggests they meet again in the morning for the firing. But on their way home, they pop into the Loser's Café just so they can be filmed looking like proper losers.
Back in the boardroom, Adam's sexist ways are highlighted. Karren points out that he has sidelined Jade — telling her "you go off and make us some nice chocolates"— while he and Nick do the important man's work. And it's actually Jade who comes up with all the ideas, leaving Adam and Nick looking pretty clueless.
And so it is Adam who has to leave. Mind you, he is fired in a kindly way by Lord S. "Keep in touch", he says and Adam replies, "If you ever need a salesman you know where I am". It's a telling remark — throughout the series, Adam has shown that he is a fantastic salesman — but not necessarily a great businessman.
Next week: It's the finals and those gruelling interviews. Claude Littner and Margaret Mountford could teach Jeremy Paxman to toughen up.
Find out more about the candidates on the BBC Apprentice website: http://www.bbc.co.uk/apprentice
Highly recommended: Matt Edmondson's hilarious Funny Bits video review on the Apprentice website.