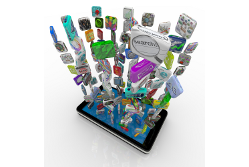 Mobile commerce – or m-commerce – has been touted as the next big evolution in consumer shopping for many years. It does look like it has finally become a reality, though not necessarily as a standalone technology, but as a further channel for online shopping.
The opportunity exists primarily due to the sheer numbers of smartphone users. Here are some recent findings:
Ofcom reported in March 2012 that 43% of UK adults now own a smartphone. Other than the obvious activities of making/receiving calls and text messaging, users reported they used their phone to send and receive emails (29%), access the internet (40%) and visit social networking sites (23%) with 33% agreeing that their phone is more important for accessing the internet than any other device they own.
The IMRG Capgemini e-retail sales index states that the mobile commerce market increased by 254% year-on-year in March 2012 for smartphones and tablets users.
According Our Mobile Planet research 31% of smartphone users have purchased a product or service on their smartphone and of these smartphone shoppers 56% have made a purchase in the past month. 24% of respondents intentionally have their smartphone with them while shopping to compare prices and inform themselves about products.
Another interesting finding is product or service research. Of those that used a smartphone for research, 39% went on to purchase via a computer and 24% bought offline. The survey also highlighted that 17% of in store and 16% of online smartphone users have changed their minds about purchasing a product or service as a result of information they gather at the time from their phones.
Price comparison activity represents a great opportunity for online retailers to get in front of consumers when they're actively seeking products in a traditional high street environment. Consumers can check pricing with comparison sites such as Twenga and Price Grabber either via a mobile browser or by using a dedicated app while shopping.
Therefore, online retailers that have a mobile-optimised ecommerce store and list their products on price comparison sites have a real opportunity to capture the interest of shoppers. But it's important to view mobile as a complementary technology for engaging with customers, rather than the only method retailers and e-tailers should use for attracting sales.
Make sure you choose an ecommerce solution that can create a mobile store easily and integrate your regular ecommerce site with price-comparison sites. The key to success is to ensure all your orders are processed from one central location so that managing orders and stock does not become a logistical burden.
Simon Armstrong of SellerDeck.