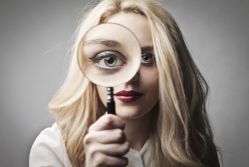 Cheating spouses beware – the number of new private investigators has increased by 26% in the past year, with the total of female detectives rocketing by a whopping 86% rise, according to data published by Simply Business.
The figures, based on more than 250,000 quote requests received by Simply Business, show that private detectives are most prevalent in Northern Ireland, the East Midlands and South East England, with particular hotspots including Salisbury, Coventry, Dorchester, Luton, Oldham, Peterborough, Llandudno, Reading, Hemel Hempstead and Southend on Sea.
Girl power
Interestingly, women aged 25-34 form the UK's largest group of new female private investigators (43%), while male detectives tend to fall within the older 45-54 years category (33%).
Jason Stockwood, Simply Business CEO, says: "We have a comprehensive view of the small business and start-up market because we quote thousands of new businesses every week. We were fascinated to see that there's been a marked increase in people wanting to become private detectives.
"With government figures showing divorces are increasing, it seems more are trying to get the upper hand by hiring a professional to spy on their partner. Our findings suggest people are taking advantage of this trend to set up as private eyes."
Woman's touch
Jo Clarke, co-director of D-Tec UK LTD, "the No1 lady's detective agency" comments: "I was interested to hear that the number of female private investigators in the UK has increased and I can understand the demand for more. Being the UK's first female detective agency, we've seen an increase in customers looking for a more compassionate and emotional person to support them through their own muddy waters."
Clarke says she has found that people are using PIs more frequently for investigations to expose cheating partners by producing evidence for divorce cases. "A woman PI can sometimes more easily understand customers' insecurities about their relationship, while also producing the facts clearly. This allows the client to make an informed decision as to the best path forward."
With demand increasing, Clarke says women are finding the prospect of a career as a private detective very attractive, and some are choosing to start their own agencies. "It can be quite difficult if we find out information that the client doesn't want to hear. However, it's nice to be able to help people draw a line underneath a difficult phase in their life."
Have you noticed the emergence of any start-up trends? Are women more suited to certain businesses than men? We'd be interested to hear your views.