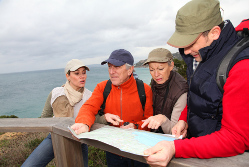 To many the term "networking" conjures up images of early morning presentations, suits and pushy salespeople. You may be pleasantly surprised to learn that a host of networking opportunities now exists that really does offer something for everyone.
Whether you find breakfast networking a turn-off or maybe the thought of presenting your business to a room full of strangers fills you with dread, there is something out there for you.
One such event gaining popularity across the UK is "netwalking", which couldn't be further from the traditional event format. Groups generally meet up at a different scenic location once or twice a month to enjoy a walk, followed by a drink in a local pub. The walks are usually graded to suit most people of average fitness and you can even take your dog along with you. The format has proved popular because they not only allow business owners to build new contacts and relationships, but also help them to get fit – a win-win situation!
Due to the informal nature of these new types of networking opportunities, they are ideal if you want to avoid the awkward small talk scenario of traditional business events. And because the focus of the events is usually on some other activity many people find it easier to strike up a conversation. 
If you are tempted to dip your toe into the networking world, it's worth bearing in mind a few points. As with any area of business, if you are investing your time and money into something it is important to have a strategy in place beforehand. Ask yourself a few questions and set some goals.
What do you want to achieve from networking? Are you looking for new customers or collaboration partners or do you just want to build a support network for your business? What kind of return on investment are you looking for from your networking? By knowing what you want to achieve you can more easily measure your success and change direction if necessary.
Always remember that networking is about building relationships with people over the long term, not making a quick sale following a first meeting. It takes time to get to know and trust people and you can only achieve this by regularly attending an event.
Ok, so what if walking isn't your thing? There are many other unique and fun events taking place across the UK, everything from coffee and cupcakes, barbeques and golfing days to paintballing and boat trips along the Thames. If your business is missing out on the potential benefits of networking, take a fresh look at what's out there and give it a go.
By Stuart Russell of FindNetworkingEvents.com - the online resource listing over 3,000 upcoming business networking events, workshops, seminars and business shows across the UK.