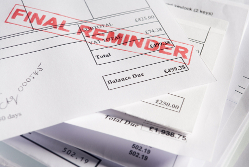 For the majority of SMEs, offering trade credit is essential, but it leaves you vulnerable to debt. Are you often left wondering how much you really know about your debtor when they go beyond your agreed payment terms?
Generally, you'll know how much they owe you and you should know their trading address, but when a company owes you money you want to know everything about them.
This year, in May, ICSM had to write off almost £100k worth of debt on behalf of its members, many of which could have been avoided if the correct company or debtor identities had been known.
If your business offers credit, you should have a robust credit management system in place. This starts with getting your customers to complete a credit application form. You'll need to ensure your form collects all the information needed to set up a credit account. You need to know:
the name of the business
whether it's limited or not
its registered number (if a company)
its registered and trading addresses (if a company)
Business SIC code (which will tell you the nature of the business)
Contact telephone numbers
Account contact name
Names of company directors (if a company – preferably with their dates of birth)
A signature
Trade references (optional)
Offering credit to non-limited companies has its own implications and it's important to remember that the liability of any debt incurred by such a business will fall directly on the proprietor(s). Before even considering offering credit to a non-limited company (ie sole trader business), you'll need to know the owner's name, date of birth and address, which will enable you to credit-check them. To do this you are legally obliged to gain their permission, so it's important to include a paragraph in the form requesting consent to run the credit check.
Try to avoid allowing your people to 'pre fill-out' the credit application form on behalf of your customers. It will only result in words being crossed out, mixed handwriting and you receiving incorrect information. Your customer should fill out the entire form, not just sign it. It might add up to two minutes onto their day, but it will save you a lot of hassle.
Christopher Moore is a credit management consultant at ICSM Credit.