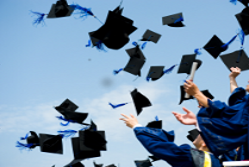 Coinciding with graduation ceremonies taking place up and down the country, the news that the UK economy has slipped deeper into a double-dip recession is a far from ideal way to welcome graduates of the class of 2012 into the world of work.
The Job Centre has advised graduates in Scotland to 'dumb down' their CVs to increase their chances of getting a job, while the Association of Graduate Recruiters has warned that, overwhelmed with applications, some top employers are automatically discounting graduates who don't have first-class degrees.
The traditional job market, therefore, might not seem the most inviting place for those recent graduates currently considering their next move. Who can blame them? I'd encourage those dissuaded from going straight into work by the doom and gloom headlines to take a step back and think over the next few months about starting up their own business as an alternative.
With this group in mind, it's timely that we have just announced the theme for Global Entrepreneurship Week 2012. To ensure the Week gets practical help and support to individuals contemplating starting new ventures, as well as small businesses in their early stages, this year's focus is on encouraging people to 'pass it on'.
We're looking for as many people as possible to get involved in the Week and 'pass on' their best advice. This might be through holding or attending an event or joining in a discussion via our social media channels. By working together to make a better environment for enterprise, we can help create businesses that will have a genuine, positive impact on the UK economy – helping generate income and employment for many years to come.
Anyone deliberating that next step, looking for inspiration or wanting to find out more and get involved can visit the newly launched Global Entrepreneurship Week 2012 website.
Global Entrepreneurship Week 2012 is hosted by Youth Business International and runs from 12-18 November.