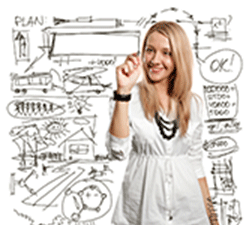 Entrepreneurial spirit in the UK is thriving, with one in four people wanting to start a business, according to new research published by business software and services provider Sage.
The study also suggests that the country's current economic dependence on the South East will start to move northwards, with the North East set to become the recognised home of UK start-ups over the next two years, as people take greater control of their future.
Up to 500,000 new businesses are starting each year in the UK, with about seven in 10 owners starting up because they want to be their own boss. According to research by The Global Entrepreneurship and Development Index and Imperial College Business School, the UK scores fifth in the world for its level of start-up activity. This is largely because of its share of technology sector start-ups and the quality of resources in start-up firms.
While the British economy may have slowed down in recent years, British entrepreneurs refuse to let their ambitions slide. Manufacturers, internet-based start-ups and retailers are all well represented in the UK's small business landscape. Prime Minister David Cameron recently said: "Small businesses and entrepreneurs are the lifeblood of the British economy and I am determined that we, working with the private sector, do everything we can to help them to start up and to grow in 2012."
However, potential entrepreneurs should be aware of the numerous challenges involved in starting up and growing a profitable business before committing to launching a business idea. Pressures include:
Dealing with the lack of cashflow
Increasing turnover
Funding the purchase of new equipment
Operating against established competition with minimal resources
Being prepared to lose everything if things go wrong
With proper preparation, determination and a clear vision, entrepreneurs can successfully overcome these challenges.  As Michael Hayman, co-founder of Start Up Britain, summarises: "All around the country people are proving that you can make it in Britain, be your own boss and create jobs that can help transform communities."