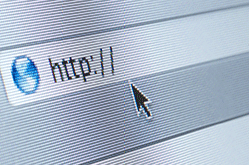 An online presence is essential for modern businesses. The chance to reach a global customer base and to be 'open' 24/7 gives you a great advantage over the traditional high street set up. Sounds good, but what you need to know is just HOW to get your website online. Here are the key things to consider for getting your business online…
1 Choose your domain name (website address)
Use a name relevant to your business that includes keywords. It is advisable to keep the domain name short and easy to remember. The most popular extensions are .co.uk and .com. You may want to think about protecting your brand by registering multiple extensions.
2 Creating your website 
Now you need to think about a home for your site and actually create it, which is where you have a few options: 
DIY website building tool – this is the easiest option allowing you to get online quickly and easily using a point-and-click method. The templates available make it easy for you to produce a professional-looking website even if you don't have any technical skills. Some enable you to add features like PayPal shop and Amazon widgets, allowing you to sell directly from your site.
Web Hosting – shared hosting is the most common choice for getting a site online and providing a home for your site. Make sure the solution is reliable, because a bad hosting solution will reflect badly on your business.
3 Think about SEO
Obviously, you want your website to appear high up in rankings when people use search engines such as Google. Implementing basic SEO (search engine opitmisation) techniques will get your site higher up in search engine results, such as using keyword in sufficient density on your website; filling your site with fresh and relevant content that is updated regularly; and using backlinks to pages on your site and others. Harnessing the power of social media sites such as Twitter and Facebook can also help to drive traffic to your website.
4 Use Google analytics
Make use of Google analytics to get information about what customers are looking at on your website and how long they are spending on each page. This will allow you to continuously improve your site based on actual customer activity.
This blog was written by Sally Tomkotowicz, Marketing Manager, Namesco