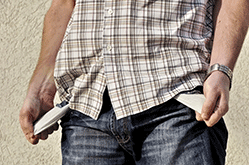 Recession continues to provide the backdrop for the UK economy, directly impacting the financial health of small businesses. Research shows that small businesses are more in debt now than at any time since the late 1990s. Those with a turnover of up to £1 million now owe around £1.60 for every £1 of turnover, compared with £1.17 debt per £1 of turnover ten years ago. Furthermore, the most recent figures from the Bank of England show that in the three months to May 2012, the total lending stock shrank by £3bn.
The credit crunch and recession has made securing finance tougher for small businesses, but that doesn't mean that raising money is impossible. Banks, investors and business angels are always open to the suggestion of backing well-run businesses with a strong sense of direction and good management team.
How to prepare for funding success:
Write a well-constructed, comprehensive business plan. Begin by formulating your objectives clearly in your mind, and then translate them into a document that will engage investors.
Prepare realistic financial projections. The three most important measures potential lenders will want to discuss are: profit and loss statement, cash flow forecast and balance sheet.
Maintain a healthy credit score to achieve low interest rates on any loans that you successfully secure. Be savvy with your budget and do not extend credit terms to customers unless you are confident they can pay your invoices on time.
Funding options to consider:
Form strategic partnerships – be creative and look for business partners. Forging mutually beneficial relationships can open lots of doors and requires little or no funding.
Join the information superhighway – the internet has become the fastest and most efficient means by which a new business owner can research funding options and eligibility criteria.
Investigate equity financing – selling a share of ownership of your business to a venture capitalist or angel investor. A good option if you are seeking a loan that can be re-paid over time as your venture becomes profitable, but not suitable if you aren't prepared to lose autonomy over your business.
Turn to friends and family – one option to raise capital quickly and without lots of red tape, although be prepared for the interested parties to desire input in every company decision!
The overall message to take away is this: whether you're looking to acquire additional capital or fund the launch of a new company, do not give up! Achieving investment requires a little creativity and a lot of perseverance and determination, so set realistic goals and be prepared to explore several options.  
BCSG creates, distributes and supports value adding products and services to small businesses through financial institutions.