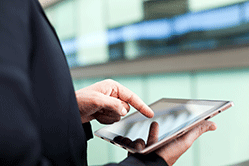 So, you had a great idea, you turned it into a business and now you are well on your way. Brilliant! But wouldn't you like to make running your new business even easier? Your tablet device could provide the answer.
A mere few years ago we didn't have access to handy tech devices such as tablets, but now there is an app for pretty much anything you can think of – including time management and marketing.
Marketing is an integral part of any business, as you've probably already found out, but often it's something that can fall by the wayside because of a lack of time. Thanks to tablet devices, your start up doesn't have to suffer. You can give your marketing strategies some attention, even while you're on the move, thanks to these fantastic tablet apps:
Raven Tools boasts an array of tools and add-ons that allow you to manage your marketing campaigns, as well as some impressive features that work well with industry profession API's [application programming interface], including SEOmoz and WordTracker.
Raven Tools is brilliant for allowing you to tailor exportable PDFs and custom reports to your brand, handy for adding a professional touch to your reporting. Offering two different price packages, as well as optional add-ons, Raven Tools is the app that allows you to tailor absolutely everything. No wonder it's so popular.
Wildfire By Google
A social marketing app, Wildfire offers solutions for all of your social marketing needs. Boasting a recently upgraded marketing suite, this app allows you to mix and match your products until you find the best solution for your business.
Using the app you can promote single or multiple campaigns, including sweepstakes, ads and promotions to your customers via the main social networking sites – this allows you to get your message across to large audience, quickly. Comprehensive analytics are also offered with this app.
A clever app that will help you to grow your online and social presence, thanks to good old 'word-of-mouth'. Much like Wildfire, Payvment allows you to easily create a virtual storefront on their Facebook fan page that allows customers to buy directly from Facebook, using PayPal to complete their transaction. There have been mixed reviews from businesses for this app, but it is a free tool, so give it a go.
This free app allows people to connect with their favourite venues, brands, and stores, as well as rewarding shoppers when they make a purchase via the app. Small businesses can create a virtual shop window, upload photos and provide information and updates, as well as invite customers to rate them.
The Elephanti app allows you, as a business, to have a direct point of contact with your customers, enabling you to find out what they like and want. The app is brilliant for letting potential customers know about your business and when a customer 'checks in' to your store you can communicate with them about every aspect of your business.
Freelance writer Ella Mason specialises in providing information on how businesses can improve their marketing through the use of Lenovo entry-level android tablets.