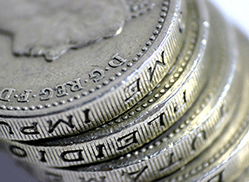 When do you start chasing a late payment? When the work has been supplied? When the payment terms have passed? When your cash starts drying up?
Too many businesses believe invoice collection should begin when they are overdue. However, when some customers respond only to final demands the time between job completion and payment collection can stretch cashflow to breaking point.
Too many businesses delay collection because they are worried that asking customers to pay will drive them away. It is possible to cause offence if you go about it in the wrong way, but you could enhance the relationship if you remain professional.
Here are some credit-control tips intended to help your business:
1.   Decide on payment terms with clearly defined terms and conditions and stick to them. As long as they are communicated to your customers, they'll be expecting you to follow up on any overdue invoices. If you are unsure what terms to use, seek expert advice.
2.   All new customers should sign a credit account application form. The signatory should be a duly authorised person who should sign below a statement requesting explicit acceptance of the terms, with particular reference to prompt payment. Any prospective customer who refuses to sign could provide a useful early warning for you.
3.   Check out the new customer with a reputable credit reference agency and set your larger customers up for monitoring so that any abnormal activity is spotted at the earliest point. This can help you avoid a bad debt. If an actual or potential problem arises, talk to your customer about how it affects your trading relationship.
4.   Every priced document (eg price lists, quotations, etc) should contain a direct reference to 'prices subject to payment within our terms'.
5.   Don't be afraid to reference prompt payment at the start of every new job or contract. At this point any customer-requested deviation from your standard terms should be confirmed in writing before work starts.
6.   It is good business practice to adjust your application for credit each year and send out a new copy to all of your active customers to sign, ensuring that you always have an up-to-date agreement signed.
7.   Avoid being subject to the buyers' terms as printed on any written order by sending an order acceptance 'subject to your terms of sale'. The last document that changes hands before performance of the contract becomes the contract document.
8.   If you are sending out a large invoice telephone your customer shortly afterwards to confirm receipt and acceptance of the invoice to highlight any problems early on.  If there are no problems you can confirm the payment date and their intention to honour their agreement. Telephone such customers shortly before the payment is due and seek confirmation it is being processed. If a query or dispute is raised, deal with it promptly and ensure that the customer accepts your response, thereby removing a potential block to payment.
9.   If an account does go overdue, ring the customer immediately, 'We can't trace your payment, can you confirm it has been sent?' is less confrontational than 'Your account is overdue', but still requires a specific answer.
10. If your best efforts to obtain payment produce no results (and two broken promises to pay is a good indicator) consider what you need to do to protect your investment in that contract. When the terms, as detailed on your invoice are exceeded, send an account overdue letter. Seven-days later send a final demand and seven days later initiate full recovery. Maintain constant communication in between these steps.
Effective collection of money you are owed is vital, no matter how large or small the customer. Ultimately your first responsibility is to protect your business. The consequences of not acting for fear of losing a customer could end up seriously harming your business. It is how you go about it that can make all the difference. Consider your own reactions when suppliers chase you for overdue accounts. If they are rude or offensive you might seek to take your business elsewhere but, if their approach is at all professional, your main reaction may well be 'What can I do to pay that?'
Christopher Moore is a credit management consultant at ICSM Credit.