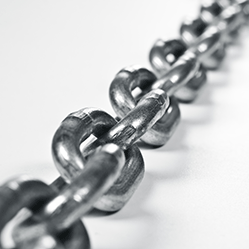 Having a website is only part of the marketing jigsaw. To make it purr you need to keep it updated with fresh, relevant content; optimise it for search engines; build a social presence, etc. A large part of the digital marketing puzzle is link-building, which increase the search engine equity of your website. One of the primary ways of doing this is by encouraging other relevant websites to link to it.
New websites and new businesses don't need to invest thousands of pounds in SEO and link building campaigns. There's a lot you can do yourself to get the ball rolling, which mostly involves a bit of hustle and some common sense.
Here are my three DIY link building tips for small businesses:
1 Who do you know?
One of the best places to start is by utilising existing business relationships. Chances are your suppliers, customers and other contacts will be more than happy to link to your website, it's just a case of asking the right person.
List everyone in your existing business network. Ask them to link to you. Don't discount those who don't have resources pages. Ask to write a testimonial about their services or even contribute a case study about your experience. This way you'll create value for them, as opposed to simply requesting a link.

2 Niche and local directories
'Directory submissions' have become dirty words in digital marketing, predominately because of the swathes that have been created solely for those looking to build links. Most will advise you to avoid them, because they tend to be flagged as spam by search engines. By submitting to them you risk wasting your time or worse – being penalised for overtly trying to manipulate the rankings. This doesn't mean that all directories should be avoided – far from it.
Chances are they'll be a few directories curated by people that are specific to your industry. These represent a relatively straightforward means of listing your business and getting a link. Try simple queries related to your niche and see what comes up. For example, if you manufacture pumps, just try 'pumps directory'. Once you've mined that, search for something more general, but still relevant (eg'process industry directory' or 'British manufacturers' directory').
3 Organisations and associations
Once you've cleaned up the directories in your niche, start thinking about industry bodies and associations. Check that any associations you're a member of link to you from their website. If not, ask them to. Again, it might be useful to think beyond just asking for a link. How can you add more value to that community? Perhaps you could get involved more by sharing your business experiences on their websites. Are there any organisations relevant to your business that you're not a member of that it might be worth joining?
Now what?
Once you've boxed off your connections, niche directories and organisations, you'll have built strong linking foundations for your website. You might even have whetted your appetite to try a few more advanced tactics. If you're ever unsure about whether it's a good linking opportunity, just follow link building expert Eric Ward's Litmus test: 'Would you pursue the link if there were no search engine at all?' In other words, would you want a connection between yours website and someone else's, even if you weren't doing it simply to build the value perceived by search engines? Follow this rule and you won't go far wrong.
Michael Smith is a marketer at Leeds-based SEO agency 9xb.
Visit the Marketing Donut for more advice about optimising your website for search engines.