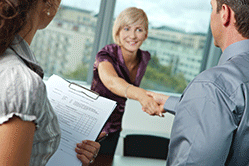 Recruiting is fraught with problems, not least the sleepless nights that come when you know you're responsible for someone else's mortgage.
What should you do when your workload means you have to take on staff? I'm no expert, but here are a few tips I've picked from our own experience over the years.
Temp to perm
Forecasting at the start-up stage is hard. Yes, you've won a contract that requires extra staff for five months – but can you guarantee the work after that?
Plus, there's nothing worse than employing the wrong person and having to spend time and money correcting the decision through training, HR or expensive calls to lawyers.
Temp-to-perm is a great solution and one we adopt in our warehouse. Firstly, it provides a means for both parties to test each other out. Secondly, employees prefer the transparency of this contract above the much-abused probationary period.  Thirdly, for those eager for a job, it's a chance to prove their worth, driven by the end goal of a full-time position.
Start them young, train them up
You can create loyalty by investing in someone with potential, filling them with the encouragement, skills and confidence to act as your right arm. By dedicating time to teach an employee from scratch, before they're influenced by bad habits from other companies, they have – in turn – benefited from quick promotion, yearly pay increases as a reflection of their capability and knowledge of exactly how you like something done.  Be careful, though, that you don't fall foul of age discrimination laws in your enthusiasm to give an inexperienced employee the benefit of the doubt.
Use agencies
Recruitment takes time; time you don't have if you're in the fortunate position to recruit. We use agencies now for 80 per cent of our workforce positions. A good agency with a clear brief will know what you want and it will manage the preliminary selection so that you can concentrate on seeing a strong shortlist. The commission agencies take is usually more cost-efficient than your time spent searching.
Ian Cowley is managing director of cartridgesave.co.uk, the UK's largest dedicated printer cartridge company.