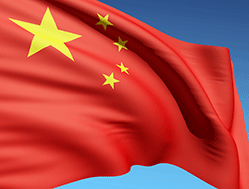 Ten years ago it was all about importing from China, but today businesses talk about China's market potential. However, few exporting start-ups know anything about how to get started, the various potential pitfalls or how to pitch a product for the demanding Chinese market.
Don't try to compete with local businesses on price
You can forget about this even if you manufacture your products in China. Lower taxes, lower rent and Chinese businesses' ability to "game the system" makes price competition a no-go for exporters. The good news is that Chinese consumers are ready to pay for quality – foreign quality in particular. Made in the UK is a quality mark and something that local suppliers cannot replicate. The only thing that really makes sense for exporting start-ups is to compete on quality instead of low prices.
Find a local distributor
You don't need to set up a business in China to reach its market. Exporting directly from the UK is good enough for most start-ups. However, to get market exposure you will benefit greatly from having a local partner with an established logistics network and relationships with purchasing managers in the country. Relationships matter in China, they are generally considered to be more important than the product itself.
Chinese distributors can be found online or by visiting one of the various trade shows in Shanghai, Guangzhou and Hong Kong. When you have found a suitable distributor, it's critical to sign a distribution agreement. Getting paid is not as simple as it might sound. There are commission-based distribution agreements, where the exporter gets paid based on monthly or quarterly sales. However, sales volumes are hard to verify and taking your distributor to a Chinese court is often too expensive and time-consuming for a start-up. The best option is simply to get paid upfront by the distributor and not settle for any complex commission-based agreement.
A local office and manufacturing in China, for China, makes sense when you've reached a high export volume. However, many exporters assume that the Chinese government requires foreign businesses to team up with a local partner to gain market access. This was true in the past, but many things have happened since then. Since 2004, foreigners can operate in China as Wholly Foreign Invested Enterprises (WFOE). Apart from a few industries, the market is free for all and no local partner is required.
Protect your intellectual property
Filing your trademark in China makes sense more than anywhere else in the world. It's not uncommon that third parties file trademarks to block foreign companies from entering the market and then offering to "sell it back" for a hefty price. Your product should also have a Chinese name, thus a Chinese name trademark is also necessary.
Fredrik Groenkvist is founder of Chinaimportal, a membership service for start-ups and small businesses sourcing products in Asia.