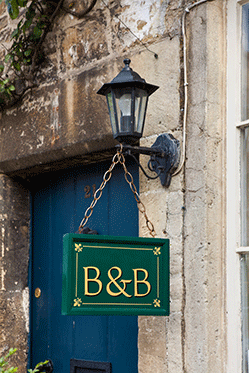 Some of us have always dreamt of having our own business, but not all of us go through with it. For those who do, it can be a real labour of love.
Bed and breakfasts (B&Bs) have been around for many years and they're a great alternative to hotels and hostels. Not only can they be cheaper, but they are designed to be homely for all who sleep there. Running one takes a lot of time and patience, and many things must be considered for the small business owner.
First off, you need to be aware of your target market, because this can greatly affect your success. You need to be able to stand out from the crowd and be able to offer facilities and services best suited to the type of clientele you wish to attract.
Next there is the building itself and there are a few options open to you. You can buy an existing business and put your personal stamp on it; renovate a building for use as a B&B; or build entirely new premises. There are pros and cons to each and it all depends on what you want and need from it. If you have a smaller budget you may want to consider purchasing a pre-existing business, so you don't have to worry about any initial renovation or building costs. Also, you would be able to open up for business sooner.
To make sure that everything is above board it would be wise to seek the advice of the local planning authority. There are also certificates to sort out, including a certified kitchen, a check from a health and safety inspector and a visit from the environmental health agency. If your business does not comply with their standards for whatever reason, you will not be able to run the business until it is sorted and checked again.
Research. Need I say more? It never hurts to look around at other B&Bs nearby to see how they are run and whether they are popular. You might just learn something valuable from the competition. You also need to do your research on things like running costs, rules and regulations, the local demographic and much more.
Relevant links