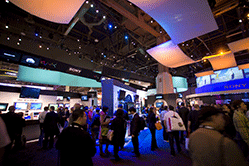 Trade shows and conferences can be some of the most effective ways of drumming up business. Whether you're there to meet potential affiliates, clients, employees or other businesses, you will want your exhibition stand to look as slick and professional as possible – so here are five tips for improving your chances at making a big impact:
Pull up posters
A way of grabbing the attention of passers by, these posters make a statement and can help you to stand out from the crowd, literally, since they will be visible above heads. Two or three such posters can cover different aspects of your business or address different potential audiences. Plus, they are easy to store and transport because they are collapsible into a small space.
Posters for the walls
If you have a stand with a back or side walls, this is prime space for branding. You may choose a simple logo to draw focus to your brand; you might want specifically designed posters to communicate your products, message or ethos. Find out the dimensions of your booth so that you are not either left short or struggling to fit everything in.
Business cards
A good supply of high quality business cards will be essential while networking at a conference. Ensure that they are up-to-date with all details and appropriately branded. Be sure all delegates carry a wad wherever they go – especially to talks and social events.
Brochures
For a more comprehensive overview of your business and products, you might want to opt for a brochure that potential associates can take away with them. Try an unusual design or format to make it memorable and interesting.
Offerings
One of the best ways to draw attention to your brand is exciting branded giveaways. A good giveaway should be memorable, useful, interesting and clearly branded. USB sticks, notepads, business card holders, phone covers can all be branded and used. Another avenue to try is a fun game or a good novelty item. 
Table covering
You never know what the tables provided at conferences will look like – they might be quite old and run down, so you will want to make sure you have a good quality cloth to cover up any old scratches and stains. It's also a good opportunity to continue your branding – you might choose an on-brand colour or get your logo printed directly onto the cloth.
This guest post was provided by Nexus Design and Print.