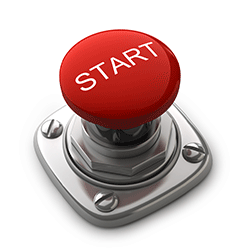 The short answer is, do it. The longer answer is…
When I set up new business development agency Retriever I set it up as a lifestyle business. I could look after a few clients, earn great money and do it all in probably only three days a week. I thought I'd found the Holy Grail and from that point on, life was going to be a breeze.
Skip forward six years, and I was still on my own but looking after 12 clients and it was killing me. I got ill, thought about the future and realised I couldn't do it on my own if I wanted to make good money and survive.
Today I have a team of 20 and the journey over the past four years has been thrilling, but incredibly hard work too.
So back to basics…
What's your idea?
Who's going to buy your product or service?
What will it cost?
Where will you operate from?
Do you need investment?
There are so many questions when it comes to setting up your own business, but surely the most important thing is to understand your market and where you fit in.
I've met many people who have had great ideas and sailed headlong into a business, getting investment, spending money on marketing and all to no avail. Why? Because they simply hadn't done enough research into who their customers would be.
It sounds so obvious, right? But selling is always going to be the lifeblood of your business and to me it seems foolhardy not to know that there is a market waiting for your product or service before you spend a single hour or penny on your business.
I don't believe you need to worry too much about being different or searching for a USP, you just need to make sure that your product or service is of a very high quality and that you can deliver to your customers time after time.
Service is a critical feature, too. For my business it's quality of service that has enabled us to grow the business. You want to be known for:
Being sensibly priced.
Delivering on your promises.
Being easy and fun to work with.
Paying your suppliers on time.
If you're going to recruit a team of people, you need to be really honest with yourself about what skills you're looking for and have the ability to employ the right people. I built my team quite quickly and one thing I underestimated was how long it takes a team to gel and work really well together.
So, with a strong idea, bags of determination and ability, the right people to support you and some guts, you'll do well. Just accept that there will be highs and lows – and you must be ready for both. Oh, and one last thing. Cashflow, cashflow, cashflow!
By Mark Young of Retriever