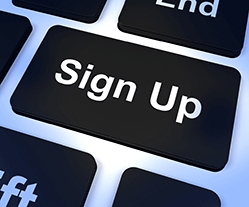 If you've just launched a new website, you may have a form that requires users to register to become a member so they can interact with your site, access premium content or undertake a free trial.
Why would I want users to register?
Registration helps you identify serious users who have shown interest in your site, because they have taken the time to complete the registration process.
Getting to the registration form
You should ensure that there is a link to your registration form on almost every page on your site. Using a service such as Google's analytics will provide you with some wonderful information such as:
How the user arrived at your site – through a search engine, link from another site or link within an email.
Which pages the user viewed on your site.
Considering your registration form
A registration form should always be as simple as possible, and collect just the bare information needed to fulfil the process. The more fields you include, the more likely you'll put users off finishing the registration.
Verifying that the user exists
There are many organisations and individuals who target legitimate sites for spamming on forums and posts. A piece of software called a 'bot' may try to register for your site so spam links can be posted.
You can help reduce the likelihood of a 'bot attack' by making a user confirm their email address through a unique link or by a 'captchta' phrase, which displays an image of usually two distorted words that (usually) only humans can read.
What should I do once the user has signed up?
The simple answer is just to wait and see what the user does on your website.
This information can give you a valuable intelligence for future marketing campaigns such as:
Which words to target for a pay-per-click campaign.
Areas of your website that require more refinement or promotion.
Contacting users
Your routes of communication should be clearly outlined in your terms of use, to which the visitor should agree before they register.
Better than cold calling
You'll immediately have a warm lead that you can follow up. Not only can you get valuable information about your site, but you may also have a good opportunity to sell your product or service and find out more about what the user is actually looking for and what other sites they have researched.
Tips
Depending on your type of site:
Make sure your registration form collects as little information as possible.
Ensure that your privacy and terms of use policies tell the user that their data is safe and the future communication channels you may open with them.
Ensure the form is validated before it's submitted.
Keep a track of your follow-ups, to avoid pestering your customer.
Give them the facility to opt out of future marketing communications.
Seek feedback on your website and service, particularly during a new launch.
Neil Cavanagh is the owner of Xpress Data Systems Ltd and has recently launched CamisOnline, an online business administration and management tool.
More reading