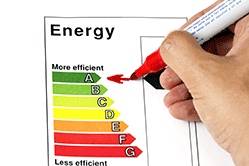 In this economic climate businesses everywhere are looking at ways to lower their costs. Your electricity bill is an easy place to start and there are a number of ways you can save money.
Call your supplier
Talking to your current energy supplier is a great place to start. Most suppliers will be happy to discuss the tariff you are on and see if this is the best for your business. Shop around with other suppliers and energy brokers to see what's on offer. Depending on what stage your business is at, it may be worth opting for a longer deal or something more flexible.
While talking to your supplier about tariffs, ask if they offer discounts for certain payment methods. For example, most energy suppliers will offer a discount or incentive for paying by Direct Debit.
Check your bill
Make sure you spend a couple of minutes checking your bill. Has your supplier billed you accurately on an actual read or have they estimated your usage? Check the read against your meter; it only takes a few minutes to send your read in. By giving regular reads you make sure your bills are accurate and that you only pay for the energy you use. Many suppliers are also letting customers trial a smart meter prior to government roll out, which will provide regular meter reads automatically, so ask your supplier if you can apply.
Energy efficiency
We have found that businesses are less likely to look at energy efficiency than our residential customers, yet there are some really quick and easy measures you can take, that can reduce the amount of energy you use:
1. Lighting
Approximately 40% of all energy consumed in buildings is used for lighting, so here are a few simple steps you can take to lower your costs:
Switch off lighting when you don't need it (ie in spaces you're not using and out of hours). Light sensors are readily available, so you don't even have to worry about switching off manually.
Swap your light bulbs. Compact fluorescent bulbs are widely available in a broad range of shapes and sizes. They use 80% less energy and last up to 10-times longer.
2. Heating and cooling
Most of us take heating and cooling for granted. Come rain or shine we expect our building to be at a comfortable temperature. Many of the best practice principles are the same for both situations.
 Most heating and cooling systems are fitted with regulators and most of us don't know how to use them properly, so get to know your controls.Set temperature controls to match the season and weather conditions.
Set time controls to match occupancy.
During colder months, keep windows and doors closed where possible and check to make sure they are properly sealed.
3. Office equipment
There are some really easy steps you and your employees can take together to reduce consumption.
If you're gone from your desk for a while, switch off your computer or at the very least switch off your monitor.
Switch off any office equipment when not in use and at the end of day. Many still draw power even when they are in standby mode, this includes photocopiers and mobile phone chargers.
When purchasing new equipment opt for makes and models that have an A energy efficiency rating. These will improve your overall consumption for the lifetime of the product.
Blog supplied by Richard Hughes, Director of SME at EDF Energy, which offers advice to businesses about the best ways to save money on energy bills. For a free energy efficiency audit visit www.edfenergy.com/business-fit. It's available to all small businesses – even those that aren't EDF Energy customers.