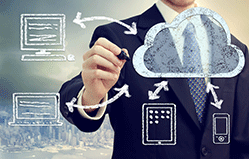 Go back a few years and the choice of computer systems for start-ups were pretty limited. Typically, a website would be created, some email addresses set up and routed by POP3, while a small server would be used for file and print. It could be a glorified workstation or if the budgets permitted, a small business server, which gave the added benefit of Microsoft Exchange, etc. Enterprise-level IT solutions were beyond the realms of most start-ups. IT systems were expensive and inflexible, so compromises had to be made.
Cloud computing – the panacea for start-ups?
In today's cloud-dominated IT environment, it is cost-effective and straightforward for start-ups to establish a fully featured computer system. Gone are the days of buying expensive servers, worrying about back-ups and having to accept second-rate solutions. We now work in a largely online but totally connected world. Sage advice for start-ups on choosing a location from which to operate would be to ensure that their internet connectivity is fast and robust. Location is important, not least in terms of the broadband choices available.
Example solution
So, to begin with, let's take an example start-up with three staff.  Previously, a workstation would have been used for file sharing and POP3 email accounts would have likely been used. 
The obvious downsides to this are myriad – it is not a particularly scalable solution and if business growth was planned, a server would be required. File sharing outside of the office would have been challenging (and certainly less secure), with it being likely that files would be saved outside of the workstation and on other machines, potentially risking files not being backed up properly (and possibly not giving an offsite back-up data set). 
POP3 email is a cheap option, however, over time a lot of spam and viruses would be received, some of which could get through a standard PC antivirus solution. Moreover, POP3 traditionally is less reliable and with no email filtering, any email outages can lead to lost emails in the event of an ISP failure.
Nowadays, a cloud solution could be utilised from day one, resulting in enterprise-level solutions for a cost-effective monthly fee. This would comprise of a hosted server, with a full VPN to ensure that staff can work seamlessly on the move. Data would all centrally stored and trouble-free, being securely backed-up offsite. Email would be filtered and cleaned, before being delivered to the devices of your choice through Microsoft Exchange. As well as syncing emails between multiple devices (smartphones, laptops, etc), exchange also allows full collaboration, shared calendars, etc.
Whilst a cloud solution might not be right for every start-up, the benefits certainly make it ideally for the majority of new enterprises. Some of the key reasons why are listed below:
Saving money: instead of outlaying valuable capital on server and networking, cloud computing offers a cost-effective alternative.
Mobility and flexibility: employees can work securely from anywhere and information is available while on the move.
Scalability: instead of computer systems restricting the growth in users or data, or certainly incurring significant upgrade costs, cloud solutions can be scaled up or down as required with minimum inconvenience or cost.
Reliable: most cloud computing providers guarantee uptime, which ensures your systems will always be working.
Increased security: as well as hosted services being more secure, they also offer an inherent disaster-recovery solution to ensure that your business can continue to operate in the event of a power cut, fire, etc.
Blog supplied by Adrian Case of Akita.