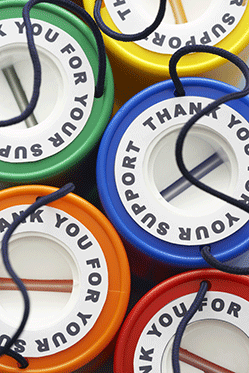 I once heard Sir Bob Geldof telling a conference that "you can't do it all, but you can do your best', and it inspired me to create my own corporate social responsibility (CSR) strategy for my business.   
There's never enough time or money to do everything you want to do, but you should not use that as an excuse for not doing anything at all. If money is tight, businesses can donate their time and core services to their chosen charities.
Your expertise might lie in accounting, baking or magic tricks – it doesn't matter. Someone somewhere will appreciate your skills and this will be the most effective contribution you can make.
We adopted Friends for Leisure as our corporate charity in 2008, it's a voluntary organisation in Cheshire that helps children and young people with disabilities, and they do great work. We provide them with all of their outsourced IT solutions, as well as organising regular fundraising initiatives.
It's not only your services that will benefit your charity. Inevitably, corporate sponsorship of non-profit organisations raises PR opportunities and the profile of the charity rises (as well as that of your business).
Although I identified the cause I wanted my business to support, there would be no way I could pursue anything without my team's support. By getting 'buy-in' from my staff I not only ensured that we could achieve a meaningful charity programme, but also that we created greater team spirit and camaraderie within the business.
Most charity events have PR value for business that are involved with them and many find that their clients/customers love to get involved too. Choose events that not only benefit the cause, but also your clients/customers, staff and other people to whom you wish to connect.
Motivating staff can be difficult at the best of times, but those who get involved with giving will also be more willing to give more to their day job and you'll find that they buy into the ethos and culture of the business.
Blog supplied by Gary David Smith, co-founder of Prism Total IT Solutions, provider of Cloud and managed IT services to UK SMEs (and the Friends For Leisure charity).