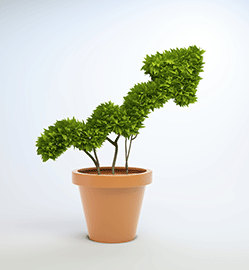 As the financial crisis of 2008 fades into the past, UK entrepreneurs are picking themselves up and dusting themselves off in increasing numbers. Against the odds, there were nearly 500,000 new businesses launched in 2012 and figures for 2013 are looking even better. So far, upwards of 350,000 start-ups have launched — a signal that we're moving out of the winter of financial disaster and into a spring of new opportunity.
With this surge in entrepreneurship, naturally some small-business owners will succeed while others fail. The question, then, is how can you develop a business model that is poised for both stability and growth?
Build a solid team
While many start-ups launch as one-man/woman-band businesses, consider bringing in family members, co-management, employees, accountants and other sources of help and support. While you may be highly skilled in your field, it can be difficult to handle all aspects of your business alone, while remaining inspired and motivated.
If you have a good team around you, you'll find operational and administrative challenges less daunting. And if you can successfully make each team member feel that they are valued and respected, you'll be surrounded by people who are just as dedicated to pushing your business to success as you are.
It's also important to avoid naysayers; seek out team members who are brimming with positivity. This is especially crucial when working with family, because the family dynamic can sometimes bring added stress.
Know thyself
Develop a clear sense of your brand's niche and image. If you don't have a clear idea of what your service or product has to offer, potential customers or clients will be confused, and your opportunities for engagement will be lost. Not only do you need clarity of vision, but you must also find ways of clearly articulating this vision to a target audience through marketing and customer interaction.
Get educated
This can mean engaging an accountant to teach you how to work through the ins and outs of the 'financials' involved with running your own business or hiring a business coach to teach you how to pinpoint your goals and determine the steps you need to reach them. Joining your local chamber of commerce can also be useful, because it will provide access to a variety of courses and workshops.
Look forward
Think about the future and how your business will need to evolve to stay competitive. Pay attention to competitors and trends in both local and global markets. Above all, never rest on what you accomplished yesterday. Maintain your sense of momentum. If your business gets too comfortable, you'll quickly find yourself left in the dust.
Blog supplied by Rod Beau, senior consultant at Rod Beau Coaching Mentoring and Consulting. Connect with Rod on Twitter and Google+.