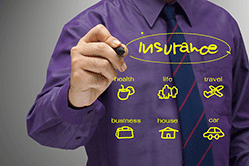 So you've decided to set up your own business. Once the initial jubilation and feeling of liberation passes, trepidation creeps in, as you begin to question whether you've made the right decision and where on earth do you even start?
Being fairly new to the market ourselves, we were in that exact position just over a year ago and know how baffling even building a to-do list can be. If you've never done it before, how can you possibly know everything that needs to go on the list?
Surprisingly, one of the big 'must-haves' for any person starting out on their own is actually missing from most to-do lists – insurance. Simon Durkin, a senior associate at law firm DWF Fishburns, spoke to us about some of the cases he'd worked on when new entrepreneurs have ended up in difficulties, because they hadn't quite realised the risks involved in being their own boss.
A number of the claims he'd handled recently were against "mumpreneurs" who had (accidentally) sent USB sticks infected with viruses to clients. This resulted in damage to one client's computers and put sensitive data about their customers at risk.
if you don't have the necessary insurance, this kind of incident – which can easily result in legal action - could be enough to stop your new business dead in its tracks.
Whatever your start-up is, you need to make sure you thoroughly research what insurance is needed. With an increase in the number of new businesses started in the UK in 2012 – reaching more than 500,000 – and with about 230,000 businesses across the UK having no insurance cover in place (according to research published by insurance broker LV=), too many start-ups are vulnerable to liability claims, hefty fines and even prosecution – all of which seriously scupper growth.
The best place to start is to take a deep breath and familiarise yourself with the different types of insurance available to business – and the insurance industry's jargon. Read about professional indemnity insurance (which protects you in the event of professional negligence claims), public liability insurance (which helps if a member of the public is hurt as a result of your business activities), and employers liability insurance (which you must have if you employ people, including contract workers, apprentices and even volunteers).
Once you've got your head around those, move onto the business insurance policies that protect you from unlikely but catastrophic events - business interruption Insurance, and key man insurance.
It's a notoriously complex area, so if you're still unsure, talking to an insurance broker who specialises in arranging insurance cover for businesses will help. It's easy to find brokers on the internet and even get a quote tailored to your business needs online – but if you can get a recommendation from someone in your network, so much the better.
Finally, if you're a member of a professional association, it's also worth looking into what support they provide. Often they have considered the needs of their members and put a package in place.
Blog supplied by Steven Mendel, CEO and co-founder of Bought By Many, the company that "helps people club together to get a better deal on their insurance".