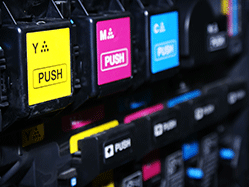 Think of all the prints the average start-up produces... Flyers to advertise, letterheads, invoices, signs, the list goes on. You may think nothing of it when you phone up your local printer and order hundreds of letterheads, but in reality, it's another big cost that you could cut.
If you have a printer, why not print it yourself? Most people would never consider purchasing a laser jet printer, but the truth is good mono laser jets are now available from about £70, with full colour versions starting at slightly more than the £100 mark.
With a great range of compatible cartridges available, there's no need to over-spend on consumables either. Very quickly you can have a great quality setup for small money – and start looking at how to produce the collateral without breaking the bank…
You've got the hardware, you just need the designs and you're ready to print. Maybe you already have the designs from a previous batch? If so, the job will be pretty straightforward. If not, then here are a few tips to get you started
1. Use friends and family
If you know somebody, friend or family member, who's good with design, ask them to do you a favour or at least a 'mate's rate' discount. They should be willing to knock off a few pounds.
2. Use employees
You may discover secret talents or previous experience among your employees, so as long as you're not sacrificing other workloads, ask those you work with whether they have any design experience or ability.
3. Have a go yourself
Why not have a play around with some designs yourself? These days, internet forums and tutorials can teach you the basics in almost anything. Remember, there's always time for re-design later, so just go for it and enjoy the experience!
As soon as you take this approach to costs, you will soon find yourself saving much more than you thought. But not only that, you'll find yourself making smarter business decisions – looking for the cost-effective, easily attainable quality solutions.
Blog by Gary Flynn, managing director of TonerGiant.co.uk, supplier of toner cartridges and ink cartridges.