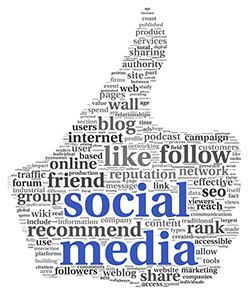 If you're setting up a new business, you will have a lot on your plate and certain things will naturally fall down your list of priorities simply because there isn't enough time to do everything. It's easy to consider your social media strategy non-essential, but actually, in this day and age, it can and perhaps should be a central aspect of your business.
It doesn't much matter whether your business centres on selling to other firms or the general public, because social media can be vital in both spheres. It just needs to be approached in a different way.
Business to business
A 2012 study carried out by Business Network International (BNI) found that about three-quarters of business owners had been put off dealing with another business as a result of their use of social media. You might therefore think that the solution is to avoid it altogether, but that would be spurning opportunity through fear, which isn't really what starting a business is all about.
BNI national director, Charlie Lawson, outlined some common problems seen in small firms' social media output: "There are businesses that have the various social media profiles and accounts, yet no content; others that bombard with promotional messages; and a large proportion that don't engage at all. These three strands are a combination of why SMEs are failing in their social media usage."
You can see that while aggressive social media marketing tactics are considered a major problem, the other two criticisms in fact revolve around lack of social media engagement.
The key with social media is that it is about building relationships. This is why a solely sales-focused approach will prove unproductive. You need to interact with people and provide something of value, otherwise they will have no reason to pay attention to anything you say.
If you are primarily dealing with other businesses, it is probably best to focus your efforts on sites such as LinkedIn, which are geared towards professional networking. It's not that Twitter and Facebook will necessarily prove unproductive for you. It is more that you are likely to get a better return on your time investment with something more business-oriented.
Business to consumer
Conversely, LinkedIn will be of less relevance if your main aim is to build your profile with the public. Using social media is about working out where your target market spends time online and then communicating with them there. As such, Twitter and Facebook are likely to be far better promotional outlets if you are primarily selling to the general public.
However, this is not the only way to speak to people. As mentioned previously, a successful social media strategy centres on building relationships and this means providing something of value. If you are providing a service of some kind, it is advisable to try and showcase your expertise.
Nothing builds your profile more quickly and effectively than coming to be considered an authority. Providing free advice online doesn't mean undermining the need for your own business, it means building trust and raising your profile. You can provide advice via a blog or another very effective approach is to upload videos to YouTube dealing with common problems related to your industry. This is a particularly good option if your writing isn't good enough or you feel you would come across well on camera.
In summary
Social media is not a faddy add-on to conventional approaches to building a business. It can sit right at the heart of your overall strategy and allow greater returns for the same amount of effort. The key is to actively engage with people to build genuine relationships. This has always been central to successful business and will remain so, even if the methodology has changed.
Blog supplied by Lee Jones of Sedulo, a Manchester-based firm of chartered accountants
Visit the Marketing Donut for a wealth of practical advice about using social media for business.