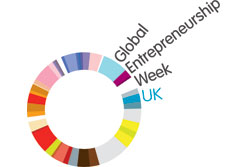 From 18-24 November events to celebrate Global Entrepreneurship Week (GEW) will be taking place throughout the UK and you or your business are welcome to get involved.
More than 350 events in the UK involving more than 76,000 people are planned, but there is still time to stage your own event – and there are many good reasons why you should (you can email the organisers for advice).
Business Secretary Vince Cable will launch GEW at an event at Westminster Kingsway College, which will be hosted by organizers Youth Business International and sponsors Barclays, where attendees will include former Pizza Express entrepreneur Luke Johnson, and Gandy's Flip Flops founders Rob and Paul Forkan.
The theme for this year's GEW is to encourage would-be entrepreneurs and business owners to "Take a Step Forward" towards starting a business. According to the organisers, highlights of the week include:
This year marks the tenth year of GEW, according to organisers, a week that is "dedicated to giving individuals and start-ups practical support to help them get set up and grow". Last year, they say, 279,500 people in the UK attended more than 3,200 GEW events organised by more than 500 partner organisations.
"Young or old, whether you're in Barrow or Braintree, or Greenock or Greenwich, Global Entrepreneurship Week can help you take a step forward," comments Andrew Devenport, chief executive of Youth Business International (YBL – "a global network of independent non-profit initiatives" with HRH The Prince of Wales as its president). "We had a record year last year, but 2013 is shaping up to be even bigger and better."
GEW certainly has high-level support. Prime Minister David Cameron says: "Global Entrepreneurship Week is about growing enterprise ambition and ensuring that those with ideas know where to get the support they need to make them a reality. It's about creating jobs and opportunities."
YBL says it believes that a large national campaign to promote entrepreneurship is "a vital part of making the UK more entrepreneurial, to encourage more people to start up their own business.
"The challenge we face is simple: while more than half of the population would like to start their own business, less than 5% actually do. These entrepreneurial ambitions are even more acute among young people and women. Young people in the UK are three-times more likely to be unemployed than adults, and more than twice as many men start businesses as women."
Maybe this year's GEW can help to address such problems by encouraging many more people to take control of the future by starting their own business.