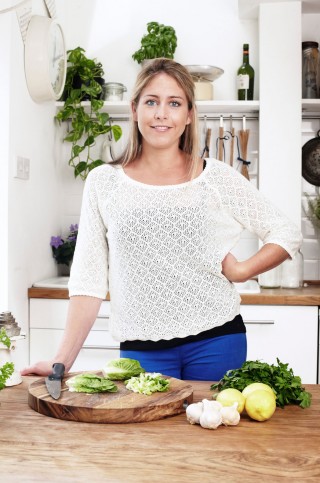 Many people will consider the option of starting a business of their own at some point during their life. Sometimes this is fuelled by a change of personal circumstances, sometimes it is as a result of a 'light bulb' moment where you think to yourself "I can do it better than that" and for others it is to fulfil a life-long ambition.
The UK is a nation of entrepreneurs. There are more than 2.1 million VAT registered businesses and the vast majority of those are small businesses. StartUp Britain suggests that entrepreneurs in Britain will start more than 500,000 new businesses in 2013 alone.
Andrew Devenport, chief executive of Youth Business International (hosts of Global Entrepreneurship Week) says "While more than half of the population would like to start their own business, less than 5% actually do. These entrepreneurial ambitions are even more acute among young people and women. Young people in the UK are three-times more likely to be unemployed than adults, and more than twice as many men start businesses as women.
This week marks the 10th anniversary of Global Entrepreneurship Week, which is dedicated to giving individuals and start-ups practical support to help them get set up and grow. Andrew Devenport says, "Young or old, whether you're in Barrow or Braintree, or Greenock or Greenwich, Global Entrepreneurship Week can help you take a step forward."
Here, four entrepreneurs tell us why they decided to set up on their own and share their stories.
Alex Head - Social Pantry Ltd
Alex began her entrepreneurial journey when she started a small sandwich company at the age of 15 and since then it has steadily grown it to the company it is today.
After opening three restaurants for other people she decided it was time to take the plunge and founded Social Pantry Ltd, a café and catering company in Clapham. Social Pantry was created on the back of Alex's love of food and a challenge. Despite starting up during the recession, she has expanded with an impressive client list including Jo Malone, Red Bull, Innocent Drinks and Laura Ashley.
However, it hasn't always been plain-sailing for Alex - learning quickly how easy it is to get it wrong after the closure of Melito in 2010, a company she had invested in and set up.
One piece of advice Alex would give to people looking to start a food business would be to run a pilot scheme or a trial run. "A good way of starting is to have a pop up as a tester and then you can get direct feedback straight away. Alternatively, if you're delivering food, start with a small sample of addresses you deliver to, and then expand if successful."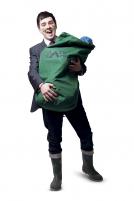 Jacob Hill, age 20 – The Lazy Camper
Jacob is currently studying for a degree in Enterprise Development at the University of Huddersfield, but unlike his peers, he isn't just learning about starting a business, he's actually doing it. What started as an idea in a muddy campsite at the Leeds festival has now grown into having its own office and six members of staff. Jacob now supplies camping equipment to thousands of festival goers and campers across the UK through his company, The Lazy Camper.
The company, whose best selling product is the £69.99 all-in-one camping kit in bag, is now a proud sponsor of Virgin Media's V Festival and offers one of the easiest camping options ever to the hundreds of thousands of people at events such as 'V Festival' each year.
However this young entrepreneur nearly didn't make it through school when his teachers found out he was running a confectionary enterprise from his school lockers. When threatened with suspension at fourteen he worried about his future, but little did he or his teachers realise that by twenty-one he would be a successful businessman winning £270k worth of investment for his start-up enterprise. Jacob wants to inspire other youngsters to combat the lack of employment opportunities by thinking big and starting up their own business.

James and Charlie Gerard - Offertune
Offertune was born over a good steak in an empty restaurant on a Monday evening. Two brothers (James and Charlie) were dining with the owner of a small group of restaurants and discussing why the normally busy restaurant appeared empty in the early week.
They realised that large chain restaurants were able to communicate offers to their guests through organisations like Groupon that have large, ready-made databases.
The seed of Offertune was sewn and the brothers worked for eight months trialling and developing software that provides a free tool for restaurants to collect and grow databases and send out free vouchers to their members.
Through a number of trials, they proved that fans of the restaurants would pay up-front and then spend 150% on the night. Charlie and James are now ready to run their business after a turbulent year of setting up but state that the key to their success is their brotherly bond. Charlie describes their relationship as one of the many strengths of Offertune, having a shared background and a similar frame of mind they are able to bounce ideas off each other with no inhibitions for sharing ideas.
As a result of both their hard work and teamwork, they already have interest from household names such as Charles Wells Pubs, Yo Sushi and Loungers, so it'll certainly be a busy Christmas for them!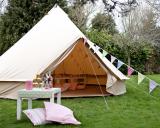 Katie Ainsworth – The Celebration Tent   
Katie's business idea grew while she was looking for something out of the ordinary for her son's first birthday. She spotted this gap in the market and jumped at the chance to have a business that would fit around family life.
In 2011, Katie undertook voluntary redundancy from the NHS to coincide with her maternity leave. Katie dreamt of having a rewarding job that also let her work from home and have flexible hours to be a full-time mum. She realised the only way this would be possible was to become her own boss and she is now leading the way for stay-at-home parents seeking commercial success.
Katie started up The Celebration Tent, offering a decorated five metre bell tent for hire at private events, in April 2013, and has never looked back. Throughout this year, the company has gone from strength to strength as a result of beaming reviews from all of her clients and she has now expanded from one huge tent to four.
Katie describes her job as much more rewarding and challenging than her previous job at the NHS working with high level researchers. She would advise anyone thinking of changing their career and starting up their own business to take the plunge, as it was the best decision she ever made.