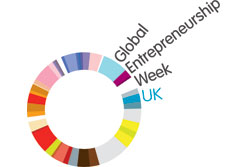 This week is Global Entrepreneurship Week – a week that aims to grow enterprise ambition and motivate people to meet their new business potential.  Entrepreneurs and budding entrepreneurs from across the globe use the week to share ideas, connect with each other and receive valuable support and advice.  Sounds great, but what does this mean for the UK's small businesses?  Why should they care about Global Entrepreneurship Week?
The organisation I represent – Youth Business International – runs the week in the UK and 10 other countries across the globe.  Our ultimate goal is to help people around the world to start and grow their own business.  Global Entrepreneurship Week gives us a platform from which to drive this goal forward, shining a spotlight on enterprise that enables us inspire and encourage new business ventures.  But, for me, Global Entrepreneurship Week is more than that.  Now in its tenth year, the week has become more of a movement than a PR push.
The campaign will see over 3,000 events across the country involving in excess of 300,000 people.  Very few of these events are organised directly by Youth Business International.  They're organised by partners, from schools who want to inspire their young people to Barclays Bank who want to help businesses take their venture to the next stage.
So why should small businesses care?  For me, there are three reasons.  First of all, the week can be a catalyst for growth.  Our theme this year is 'take a step forward' and the activity taking place is focused on giving small firms the tools and encouragement to push themselves, even if they make just one change that will open up their potential.  Secondly, the week shines a light on the importance of enterprise – it's a celebration of the UK's start-ups and a time to be bold in communicating the value they bring to our economy.  And finally, through the week, small businesses have unprecedented access to a huge amount of practical advice and resources, from masterclasses in international client marketing to bookkeeping workshops. 
Global Entrepreneurship Week genuinely helps entrepreneurs to get the recognition they deserve and the support they need to grow.  That's why I believe it's a week that all small businesses should take note of. 
For more information about Global Entrepreneurship Week, to learn more about the events taking place across the world and how you can be involved, visit www.gew.org.uk or follow the hashtag, #GEWfwd on Twitter.
Andrew Devenport is the Chief Executive of Youth Business International