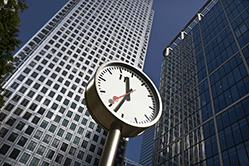 By December 31, half a million new businesses will have been started in the UK this year, with the number of VAT-registered companies already back to pre-2008 levels.
According to government statistics SMEs generate £1,600bn – slightly less than half of all private sector turnover. Research carried out by Enterprise Nation suggests almost 70% of these new businesses are started at home – often by people who are holding down a day job.
Meanwhile a new report from think tank Resolution Foundation points to our economy rapidly moving towards a two-tier labour market – those with top jobs and big salaries - and those with low-paid jobs. It reported a drop in the number of middle-income jobs and predicted further polarisation in the UK's maturing economy.
It's a fundamental change and one that the Foundation thinks the Bank of England should take into consideration when deciding when to increase interest rates – because it argues lower unemployment - the magic seven million mark – will not hold the same significance as it once might have done.
It led us at Enterprise Nation to ask this question - could the start-up momentum we are witnessing be, in part, fuelled by the increasing wage gap? We know "5 to 9ers" – people carefully test the water by starting a business in their spare time, working away in the evening and weekends – have been around for a while.
I wrote Working 5 to 9 in 2010, reflecting the then new trend, and at the time we calculated that five million people were making some form of income at home. It's now time for us to revisit these statistics – because we're pretty sure that figure will have been blown out of the water.
Is the 5 to 9 trend likely to experience an even bigger boost now people have realised they are unlikely to see the kind of income they might once have expected?
Sadly, no statistics that can clarify this at the moment, however, the idea is set to be tested this week when Enterprise Nation opens its doors to its pop-up enterprise hub, set in the heart of the City and offering a free lunchtime start-up service to people who already have jobs.
The pop-up will offer power hours, setting up a website in your lunchtime, expert help with blogging, social media, finance, planning and so on. We think we're going to be busy - and the very fact that we think there's a demand demonstrates there is at least an anecdotal appetite as well as a certain 'normality' about holding down a job and working on a business in your spare time, which is interesting. Let's see if we're right.
Emma Jones is founder of small business network Enterprise Nation, a co-founder of StartUp Britain and an adviser on the newly-formed think tank Centre for Entrepreneurs.