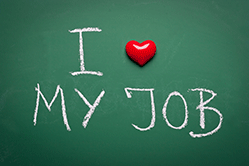 As a small business owner it can be difficult to maintain your own morale and, just as importantly, that of your staff. In a climate in which budgets are stretched and purse strings are tight, many small businesses struggle to stay happy – and, as a result, they struggle to remain productive.
Workplace culture is a hugely important element of an overall business strategy.
We want to see happy employees, not only because that is good in and of itself, but also because people are at their best when they are at their happiest. We spend a great deal of time working out how we can make Simply Business the best possible place to work.
Happiness and efficiency are intrinsically linked in the business environment. So how can you ensure that both you and your employees keep both their spirits and their productivity high?
1.Celebrate your wins
It is all too easy to become so absorbed in the day to day minutiae of running a business that you forget to celebrate your achievements. Perspective is important, both for you and your employees. Take time to 'zoom out' and recognise the ways in which you have succeeded, as well as the work you still have to do.
2.Take regular breaks…
It is impossible to remain both productive and satisfied if you or your employees are working all day every day. Regular breaks are important in order to keep the mind focused and to prevent boredom. Rather than trying to do multiple things at once, try splitting up your time into 20 minute chunks, with short breaks in between. This may help to boost both your productivity and your work satisfaction.
3.…and make sure you take time off
Extended breaks are also vitally important for all of us, and yet many business owners fail to take enough time off. Make sure that you take holiday time off and that, as far as is possible, you use this time to do things other than work. Remember that this will likely require you to plan ahead in order to ensure that you tie up loose ends before you leave and that your business can continue to tick over in your absence.
4.Think about employee benefits
The headline salary is not the only way in which you can attract and keep the top talent. You should also think about the working environment and, crucially, the benefits that you are offering. There is a range of cost-effective benefits that you might investigate. These include flexible working, the Cycle To Work scheme, and non-medical covers like life insurance.
5.Learn from the 'Google ratio'
Google famously encouraged employees to spend 20 per cent of their time working on their own projects. Although the company is now moving away from this ratio, ensuring that your employees have time to pursue their own interests during the working week can still be hugely beneficial. Not only will it help demonstrate to employees that their creative input is valued, it could also help to produce new innovation.
6.Foster a sense of community
Finally, it is important to remember that a fragmented workforce is far more likely to be unhappy. You should think carefully about ways in which you can develop a sense of community amongst you and your employees. This might include away days, meals out together, visits to non-work related cultural events, and so on. Remember that these need not be hugely expensive; rather, the intention is to create a space in which employees can get to know each other better.
Blog by Jason Stockwood, CEO of Simply Business