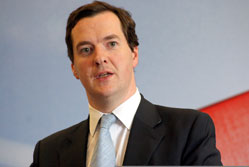 The Chancellor George Osborne delivered his Autumn Statement this morning against a backdrop of quietly increasing confidence. The International Monetary Fund (IMF) increased its growth forecast for the UK from 0.9% in July to 1.4% in October and the Bank of England announced in November that the UK's economic recovery has "finally taken hold".
Whilst the Chancellor undoubtedly has one eye on the next general election in 2015, there is still work to do to ensure the improving economic picture continues. With this balancing act in mind, the Chancellor announced:
Business rates: Doubling the small business rate relief from April 2014.
Business rates: Cap on the business rate Retail Price Index increase to 2% in 2014/15. Businesses will also be allowed to pay their rates in 12 monthly instalments.
Business rates: New reoccupation relief will halve the business rates for new occupiers of vacant premises. All retail premises with a value up to £50,000 will receive an £1,000 discount off their business rates for the next two years.
New Enterprise Allowance: Extension to the scheme and an additional 50,000 start-up loans for entrepreneurs.
Tax relief: There will be tax relief for those investing in social enterprises and new social impact bonds from April 2014.
National Insurance: Employer NICs will be abolished for workers under the age of 21 from April 2015 (subject to parliamentary approval) on earnings up to the upper earnings limit.
Tax breaks: Married and civil partnership couples to benefit from new transferable tax allowance of £1,000 for couples with one basic rate tax payer and one non-tax payer from April 2015.
Capital Gains Tax: CGT to be paid on future gains made by non-residents who sell UK property from April 2015.
Corporation tax: Tax relief for investment in onshore oil and gas related activity – including shale gas - for expenditure on or after 5 December 2013.
Stamp duty: Stamp duty on purchases of exchange-traded funds abolished.
Export: Doubling (to £50 billion) the Export Finance capacity to support British businesses seeking trade overseas.
Pensions: State pension age to increase to 68 in the mid-2030s and the 69 in the late-2040s.
State pension: Protected from the cap on welfare spending. State pension to rise by £2.95 per week from next April. Current pensioners to be given the opportunity to make voluntary National Insurance contributions to boost their retirement income from October 2015.
Welfare reforms: Those aged 18-21 who are out of work and without basic skills in maths and English will be required to take training from day one or they will lose their benefits. If they are still out of work after six months they will be required to undertake work experience, and traineeship or a community work place or they will lose their benefits.
Apprenticeships: There will be an additional 20,000 places over the next two years.
Student places: There will be an additional 30,000 student places next year and the cap on student places will be abolished the year after. There will also be extra funding provided to science, technology and engineering courses.
Energy bills: Average family bill to be reduced by £50.
Funding for Lending Scheme: Scheme to be refocused to support small business lending.
Free school meals: All children in reception and years one and two to get free school meals.
Bank levy: increasing to 0.156%.
Fuel duty: Planned increase in fuel duty for 2014 cancelled.
Travel: Cap on regulated rail fares in line with the Retail Price Index.
When announcing the business rate reliefs, the Chancellor said: "There is one group of businesses that have found the recession especially hard – as it has coincided with a rising challenge from the internet that is only getting stronger. These are our local retailers – the shops, the pubs and the cafes that make up our high streets across Britain. With Small Business Saturday this weekend, I want the government to do all it can to help them.
"We're already changing the planning rules to help town centres compete. To get the vacant shops that blight too many town centres to open again, I am introducing a new reoccupation relief that will halve the rates for new occupants."
He went on to say, "I can announce today that for the next two years every retail premise in England with a rateable value of up to £50,000 will get a discount on their business rates."
Responding to this announcement Vince McLoughlin, partner at business and tax advisory firm Russell New, said "Something had to be done with business rates and by extending the relief beyond April, this gives businesses of all shapes and sizes some breathing space in which to grow and boost local economies in 2014."