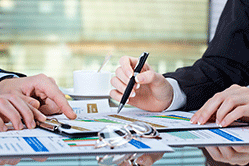 It's not the CEOs of massive companies that are struggling, but the owners of the millions of small businesses and shops across the country. In his recent Autumn Statement, George Osborne acknowledged some of the issues that affect these small businesses, and laid down ways in which he hopes to help them.
George Osborne said in last week's Autumn Statement, "There is one group of businesses that have found the recession especially hard – as it has coincided with a rising challenge from the internet that is only getting stronger. These are our local retailers – the shops, the pubs and the cafes that make up our high streets across Britain. With Small Business Saturday this weekend, I want the Government to do all it can to help them. We're already changing the planning rules to help town centres compete. To get the vacant shops that blight too many town centres to open again, I am introducing a new reoccupation relief that will halve the rates for new occupants."
His words are reassuring for many small business owners, but the question that may still be lingering in their minds is, "How does this all affect me?"
Here's what you can expect as a small business owner following the Autumn Statement:
Future increases in business rates will be capped at 2% - Instead of the business rates being linked to inflation (which is a higher percentage), the Chancellor is going to cap business rates at 2%. Businesses will also be allowed to pay their rates in monthly instalments; this 2% cap could save businesses up to £3,375.
Small Business rate relief has been extended for a further year - The current extension was due to end on 31st March 2014, but it has been extended for a further year from 1 April 2014. You'll get 100% relief if your property has a rateable value of £6,000 or less. If this is the case, it means you won't pay business rates on your property.
There's been no increase or decrease in the Corporation Tax rate and the Small Company Tax rate

The Start Up Loans scheme has been expanded, and 50,000 start-up loans will be given to a new generation of start-ups - Start Up Loans have lent £50 million to entrepreneurs looking for support in starting up a business. The scheme is well on its way to meeting the target of supporting 30,000 new businesses with £151 million by 2015.
Employers' National Insurance Contributions (NIC) will be removed, from April 2015, in instances where employees are under the age of 21 - Employing staff under the age of 21 years of age will become cheaper in an effort to tackle youth unemployment.
The rise in fuel duty has been cancelled (the Autumn Statement has capped fuel duty and rail fares) -  by cancelling the rise in fuel duty, you will save money each time you fill up.
It's clear that small businesses play a big role in the economy, and if the Autumn Statement is anything to go by, the future looks bright for SMEs. Time will tell whether the Chancellor's promises come true, but for now, small business owners can rest assured that relief will be more available than ever. In the words of Osborne himself, "Britain's moving; let's keep going."
This article was provided by 1st Contact Accounting, which gives forward-thinking individuals the tools to steer their financial affairs forward.