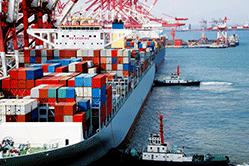 For many businesses planning for growth, exporting can seem a highly attractive, but sometimes daunting, opportunity.
According to the Department of Business Innovation and Skills, approximately one in five of the UK's 4.9m SMEs already exports and the Confederation of British Industry says you're 11% more likely to survive if you export. So, it seems natural for many SMEs to start trading internationally, especially since many have suffered from stagnation or declining domestic sales in recent years.
But there is a degree of risk. Among the cultural, legal and bureaucratic barriers sits the challenge of financing new oversee sales and ensuring that your cashflow remains healthy.
Beware the cashflow void
Standard considerations when you're an exporter include taking a localised approach, adapting your pricing strategies, perhaps establishing a local agent partnership and seeking support from a foreign trade advisory service, such as the UKTI.
But SMEs are faced with numerous challenges and difficult choices, and you may need to make some adjustments and allowances.
Recent data from the Economia Exports Survey suggests that SMEs that are new to international trade (as well as experienced exporters moving into new markets) cite a number of success factors, including having the necessary finance (34%), the ability to manage payment risk (26%) and solid management and leadership skills (28%). Concerns associated with exporting include the cost (36%), not getting paid (29%) and risk control (29%).
The international market is highly competitive and credit terms offered to prospective new customers can be the difference between winning or losing a deal – especially when it comes to larger clients. When you are at the mercy of their terms, foreign exchange fluctuations and cashflow management can be an issue. Not only might you have to manage extended credit terms, but high-value material costs may also need to be paid up front, while goods will now take longer to be shipped to the customer. The result is a cashflow void, and small businesses need to have cash management strategies in place to lessen the negative impact this might have on them.
Financial flexibility and security
Short-term finance is sometimes necessary to bridge the gap between supply of the product or service and payment receipt. Traditionally, financial securities such as International Documentary Collections and Documentary Credits have offered exporters peace of mind, however, it is estimated that as many as 80% of exporters have moved away from these somewhat burdensome trade finance products. Instead, they are conducting international trade on the more cost- and time-efficient open account basis.
For small businesses trading with an overseas customer for the first time, trade finance might not offer much help if less than favourable terms have already been agreed. Similarly, an open account may be a risky option early on in the relationship.
To overcome the financial challenges of operating in foreign markets, invoice trading has emerged as a new form of trade finance and it allows invoices in foreign currencies to be traded. This means that businesses can remove the 'cashflow squeeze' that can occur in contract delivery.
Short-term working capital
The result is a flexible and competitive way to raise short-term working capital without having to sign lengthy contracts. SMEs can obtain up to 90% of their international invoices upfront from investors who understand the commercial realities of international trade and bid between themselves to provide the lowest cost finance. 
When essential cash is needed to finance paying upfront for materials and maintain a healthy operation until the end customer pays, invoice trading can provide a valuable lifeline.
Ultimately, the success of a business may be the result of taking a risk. In the context of international export, that risk may be the acceptance of a new, large customer. The right short-term finance and cashflow products in the form of selective international invoice sale and repurchasing can provide one of the building blocks for export success.
Blog supplied by Beth Nicholas on behalf of Platform Black, provider of complementary and alternative finance solutions including invoice trading, supply chain finance and channel finance.