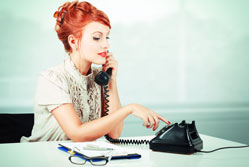 Small businesses have many advantages and great opportunities to stand out from the crowd. Free from the shackles of over-administration and red tape you can adapt your processes quickly and easily so are well placed to deliver outstanding service.
It may be surprising then that according to a survey by Oracle only 29% of the UK's small businesses believe that customer service is a key differentiator in today's competitive marketplaces as compared to 88% in Spain and 77% in Italy.
With research elsewhere showing that 81% of customers would be willing to pay more in order to receive superior customer service, we need to go that extra mile to make sure we are giving it to them. So if we know that service is key, how do we deliver it? Here are just a few brief tips:
Take a step out and experience your business as a customer. Be critical as well as constructive in your analysis and this will formulate the basis of your service plan. To succeed in business today we all need to consider every single point at which we touch our customers. If we don't delight at EVERY touch point then we fail.
Listen, never guess, never assume. Ask your customers what they honestly think – informally as well as formally. Chat to them, engage with them, ask for feedback. Whatever your business, personal service is key as people will always like buying from people they know and trust and happy customers are far more likely to stay with you.
Keep the jargon in your office. Communicate in your customers' language.
Always remember that a happy workplace = happy workers = happy customers. It's a simple formula, but it works. Keeping staff motivated is key: think about all your staff, not just those you see all the time.
It's about the little things. The small details that show you are walking in your customers' shoes to make life that bit easier, more successful and more comfortable for them.
Keep service at the heart of your business. Lead by example to instil this in all your staff.
Be proud of your strengths and acknowledge your weaknesses. Don't be afraid to employ people who can do a job better than you.
Go the extra mile. Leave your customers content and feeling they have received something extra that perhaps they didn't expect.
Finally – as a small business you can create, react, evolve and adapt very quickly. All vital in nurturing your growing venture.
Blog by Stephanie Vaughan Jones, Channel Manager at Penelope, the virtual phone system from Moneypenny for start up and emerging businesses.