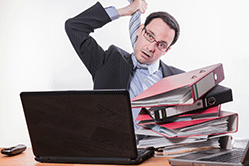 Not enough hours in the day but can't afford to take on staff? Looking to focus on your passion as opposed to spending hours on time-consuming admin? Wish you could hire specific staff as and when you need them? Well, taking on a virtual assistant (VA) could be the answer.
A VA is a highly skilled professional who can provide a diverse range of administrative, technical and creative business support services to businesses operating in a broad range of sectors. Rather than hiring full-time employees to fulfil numerous job roles, businesses use VAs to provide a wide range of skills.
The VA industry is rapidly growing, as businesses wake up to the associated benefits. However, with varying hourly rates and so many to choose from, how do you know which VA is right for your business and what should you consider before taking one on?
Managers: Many VA companies operate a pool of assistants to complete work. Look out for companies that assign one account manager to complete the majority of tasks. It really helps to have a single point of contact.
Sole traders: Most VAs (72%) are sole traders who work with various clients, so make sure you are clear about specific deadlines so your VA can juggle workload appropriately.
Contract: Although there is no minimum commitment in terms of hours and VAs only invoice for work completed, protect yourself with a contract that includes clauses about confidentiality and data protection.
Fees: Although there are no recruitment agency fees or HR-associated benefits to provide, it is important to double-check what the hourly charge includes. For example, this rate usually covers all normal office supplies but excludes postage or anything bought in specifically for a job.
Workload: Weekly work for a VA ranges from general admin to bookkeeping, marketing to events; there is no all-encompassing job description. VAs are also starting to take on more social media responsibilities so make sure you are maximising a broad range of services.
Blog provided by Caroline Wylie owner of Virtually Sorted and founder of the Society of Virtual Assistants.