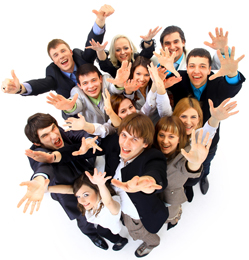 They say that it takes a village to raise a child. For those in business, it takes a company to raise a workforce. Here are some guiding principles that help me keep our annual staff retention rate at 94% – something we're particularly proud of!
Do the hiring shake
The first step is to match new staff to the corporate culture and the recruitment process is critical. It's important that a number of different people within the business interview the candidate, allowing a multi-dimensional view of their ability to fit in and transferable skills to do the job advertised.
The training tango
It is up to the business to invest in its staff and give them the tools to grow. Still, this cannot be a walk in the park and, at alldayPA 75% of staff don't complete the three-month training period. For those that succeed, the return is a team that will invest themselves in the business, propelling the company forward. A structured training programme that maps to a clear set of roles and responsibilities is an inspiration to the workforce.
Flexible as a fandango
Office life has changed thanks to the arrival of new technology and consumer expectations of an "always on, always available" point of contact. People want to talk to a person regardless of the time of day rather than leave a voicemail – 80% will not to leave a message. The standard nine-to-five working day is long gone. As long as the right number of people is working at the right time, it doesn't matter if they swap shifts around between themselves. If you can allow a margin of flexibility, where they can swap shifts to cover child care or different religious holidays then you, as a business, will be a much-loved employer by demonstrating trust.
The Jeremy Kyle Jive
Does anyone else feel like the Jeremy Kyle of the business world? By building an atmosphere of trust, this can open the door to being an agony aunt. While this is good because the team feels they can talk to someone, it is very important to remove the emotion from the situation. As the employer, there are certain practical things that the business can help with for example a short-term interest free loan to bridge a difficult time or move team members around if there is a problem.
Foxtrotting as a family
By establishing a climate of trust and team spirit it allows the team to form tight bonds like a family. Be realistic, you are looking for a 'real' family atmosphere and not a polished Hollywood version. Things can get heated because people care about each other and the business, however, this brings people closer to support each other and bring a top class attitude to the office.
Copyright © Gareth Jeffrey 2014. Gareth is operations manager at professional telephone answering service alldayPA.
Further reading