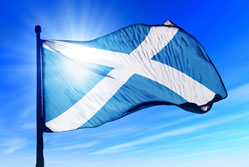 So, the second televised Scottish independence debate has aired and many commentators awarded a clear points victory to Scotland's first minister Alex Salmond over 'Better Together' figurehead Alistair Darling. According to the BBC's political editor, Nick Robinson: "From the start it was clear that Darling, who won the first debate, was edgy and nervy, while Salmond was better prepared and more confident."
But, with the referendum soon due to take place on 18 September, where do Scotland's business groups stand when it comes to independence: Och aye the noo or Och no?
CBI – No
In March the CBI criticised the Scottish Government's economic plan for independence, saying it "didn't add up". The organisation failed to see "how an independent Scotland would be better off economically from putting up barriers with its biggest export market – the UK." The CBI believes the "best way to deliver jobs and prosperity to the people of Scotland is to remain part of the UK".
John Cridland, CBI director general, commented: "The minute you draw a line between Gretna and Berwick, Scotland starts to drift apart from its biggest market and loses a significant amount of economic clout. Independence would force Scotland's major industries to grapple with two lots of red tape and lead to Scots facing higher borrowing costs. Keeping the pound is the best option for Scotland, but that is only on offer through maintaining the union. An independent Scotland would also have to negotiate hard to get back into the EU, temporarily losing access to the world's biggest trade area. Scotland's economy has the independence and flexibility of devolution alongside the support of the union. Business is clear - we are stronger together." Several Scottish organisations (including Edinburgh, Glasgow and Aberdeen universities) quit CBI Scotland as a result of its registration as a "No" campaigner.
Business for Scotland – Yes
Business for Scotland is a "co-operatively owned business network for pro-independence business people and professionals". It says: "An independent Scotland can support Scottish business in tax, regulation, the labour market, innovation and global exports. An independent Scotland will prioritise the interests of business in Scotland following decades of Westminster prioritising London and the South East. This includes the opportunity to create a simpler tax system that supports Scottish business; reforming the labour market to improve employer/employee relations; encouraging migration to Scotland to balance Scotland's unique demographic needs; and supporting Scottish exports globally through a Scottish diplomatic and trade service."
Furthermore, it argues: "There is overwhelming evidence that Scotland will be economically better off as an independent country. Even opponents of independence have conceded that Scotland can be a successful independent country. Their own negative economic forecast estimated that Scots would be just £1 worse off a year."
Federation of Small Businesses in Scotland – Neutral
In July the FSB in Scotland published Scotland's Independence Referendum: Your business, your vote to "help Scottish business owners make their minds up". The guide was written in partnership with the University of Edinburgh Business School and covered "practical issues business people say are not being adequately addressed in the [referendum] debate".
Previous FSB research suggested that most business owners in Scotland "have sought information on the referendum, but [most] were disappointed by the material produced by both sides". Andy Willox, FSB Scottish policy convenor, says: "Two in five Scottish small businesses say that better referendum information could sway their vote, but the information provided by the campaigns doesn't answer questions that matter to them."  The FSB describes the guide as a "non-partisan document", reflecting its claim that "The FSB and the University of Edinburgh are strictly neutral bodies and profess no position for or against Scottish independence."
Scottish Chambers of Commerce – Neutral
The SCC has also remained impartial. Writing in Business Scotland Magazine, Garry Clark, head of policy and public affairs at SCC, commented: "Scottish Chambers of Commerce have adopted an impartial approach, seeking to inform members of the issues and communicate members' views to politicians."
A recent SCC member survey found that more than half of respondents believed independence would bring opportunities, but "three quarters identified risks". If Scotland ultimately remains within the union, 68% of responding firms wanted more power devolved to the Scottish Parliament. Clark added: "There would appear to be a clear mood among businesses for more decision making in Scotland, whatever the outcome". According to Clark, most respondents also gave a "clear message" that Scotland having to leave the EU, either as an independent country or as part of a want-away UK, would have a negative impact on their fortunes.
In July, BBC economics editor Robert Peston wrote a piece trailing a BBC2 programme he'd just made called Scotland: for Richer or Poorer. He concluded: "If I had a vote, I would not be casting it purely on the basis of the economics - because it does not seem to me that the income and wealth at stake are life-changingly huge.
"Scotland, certainly in the longer term, is likely to be a relatively rich and successful economy. What matters far more, arguably, is how Scots [currently] see themselves in a much broader sense, either as a confident nation that is proud of being part of a bigger country, the United Kingdom, or as a people stifled and limited by the historic union."
Blog written by Start Up Donut editor and freelance content writer Mark Williams. 
Further reading