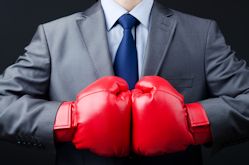 The Apprentice is back for its tenth series and up for grabs is investment worth £250k and the chance to go into business with Lord (formerly 'S'ralan') Sugar.
The most likely question on many viewers' lips during the first few minutes of the first programme might have been which of the 20 candidates is the most annoying and immediately dislikeable.
As usual, the first programme began with the candidates' frankly laughable summaries of their skills and suitability for the role, which are intended to impress, but leave many of us cringing on our couches. "I get the job done. I walk the walk. I talk the talk. I dance the dance," said one wannabe.
"There's no 'i' in team, but there are five in individual brilliance," stated another, this from someone who somewhat bizarrely describes himself as a "mix between Gandhi and the Wolf of Wall Street". One female candidate opined: "The future belongs to those who believe in the beauty of their dreams". Yuck.
You're fired
As expected, many of the candidates couldn't in fact "walk the walk", after being tasked with selling hotdogs, T-shirts, potatoes and lemons on the streets of London, with company director Chiles (yep, Chiles) Cartwright the first to be fired.
Upping the ante this year, when Lord Sugar welcomed the candidates to the boardroom, he warned: "Now, this is the tenth year, so I'm going to start things off a little bit differently. What I've decided to do is to kick off with 20 candidates – 10 boys and 10 girls. That's the good news. Here's possibly not such good news. The process will still last 12 weeks. That means that I may decide to dispose of more than one candidate at a time. Be prepared."
There's no doubt that The Apprentice is mostly sheer pantomime bordering on farce, with the editing encouraging us to see the characters in a certain light. It's intended primarily to entertain and hook us so we become willing travellers on a 12-week journey, during which time we'll laugh, get angry, embarrassed and experience many other emotions. Whether we learn much about running a business is debatable, but who knows, we might even get to like some of the candidates.
Self-obsessed egomaniacs
But The Apprentice and Dragons' Den could both be accused of perpetuating the ultra macho, hard-nosed, somewhat 1980s myth of business that encourages us to believe that the only way to get ahead is to trample over others in ruthless pursuit of profit and success at all costs. It also seems that everyone is or should aspire to be "an entrepreneur", even if, in reality – they're just someone who runs their own small business (nothing wrong with that, of course).
Many people have become totally turned off by the idea of "business". Much of business reality TV would have you believe it's a world inhabited entirely by cold, hard, self-obsessed egomaniacs. This seems to be supported by a recent YouGov poll into attitudes towards "the world of business". Commissioned by business growth consultancy, Caffeine On Demand, the poll is based on responses from more than 2,000 members of the UK public.
Just 7% of respondents wanted their children to "go into business", with 20% describing it as "corrupt and dishonest" and only 3% saying "it attracts nice people". Almost half (47%) of respondents described "the world of business" as "dog eat dog", with just 3% believing it to be "caring and responsible". Almost a third were "singing from the same hymn sheet" when they described it as "full of jargon" too.
Force for evil?
Apparently, Welsh people are most likely (60%) to view the world of business as "dog eat dog". Scots were four times (12%) more likely to describe it as "a force for evil" than people in the South East (3%), with 19% of full-time students agreeing with the "force for evil" tag, compared with the national average of 6%, and 3% of 55-and-overs.
David Kean of Caffeine On Demand comments: "The results send a clear message to us as a nation. We need to revive a national belief that 'good' business is good business. For only 3% to believe business attracts nice people is extremely worrying – it means that the very thing that feeds the national purse is despised.
"We have all, but particularly younger people, been ravaged by Dragons and soured by Sugar. A generation of bright, decent people has been put off going into business because they believe you have to be a ruthless, fictitious stereotype."
Blog written by Start Up Donut editor and freelance start up and SME content writer Mark Williams.