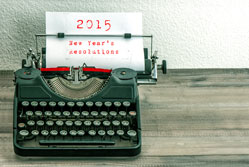 Why do so many of us bother with New Year's resolutions, especially as so few of us ever stick to them?
Somewhat shamefully, about 2% of UK adults who make New Year's resolutions don't even get to the end of New Year's Day with their resolution intact (source: Think Money). Australian research published in December 2014 concluded that almost two-thirds of all New Year resolutions made Down Under are never achieved, while a 2007 University of Bristol study suggested a much higher UK failure rate of 88%.
Common New Year's resolutions
If you resolved to lose weight in 2015, you're not alone, it is believed that almost a third of UK adults plan to become leaner this year. Almost a fifth want to improve their fitness by exercising more regularly, and more than a tenth resolved to improve their education or learn a new skill. Other popular New Year's resolutions probably included drinking less alcohol, quitting smoking and taking on more significant physical challenges, such as running a marathon.
As reported by Forbes, Facebook chief executive officer, Mark Zuckerberg, is well known for his ambitious New Year's resolutions. In previous years, as a result of his New Year resolutions "he learned how to speak Mandarin, met a new person every day who does not work at Facebook, wrote a thank you note every day, became vegetarian (except for animals he killed himself) and wore a tie every day." This year he has resolved to "read a new book every other week", with "an emphasis on learning about different cultures, beliefs and histories". He's created a Facebook page called A Year Of Books so you can "follow his challenge and read the same books".
Writing recently for Huffington Post, health and fitness coach Adam Strong says there are seven key reasons why we don't stick to New Year's resolutions. These include overly complex or ambitious resolutions; not creating a 'vision board' or diary to help keep us on track; keeping our resolutions a secret and (least surprisingly of all) – lack of will power.
Start your own business?
Another common New Year's resolution is likely to have been to finally address lack of workplace contentment, fulfilment and reward. Job satisfaction research conducted last year by recruitment consultancy Robert Half suggested that a significant 40% of UK workers were not happy in their jobs.
Starting your own business could provide the ideal pathway out of your current employed doldrums. It's a growing trend. According to Start Up Britain last year 581,173 new businesses were registered in the UK, significantly more than the 526,446 registered in 2013.
Finally stepping out on your own and working for yourself could enable you to earn more money (although this isn't a given), enjoy a more favourable work-life balance and gain greater satisfaction and reward from your hard work. Who knows, maybe you could even join the growing legion of people who supplement their earnings by generating extra cash from their hobbies or interests? It's probably never been easier to start and run your own successful small business.
Maybe your New Year's resolution for 2015 was to finally start your own business – so what's stopping you?
Blog written by Start Up Donut editor and freelance SME content writer Mark Williams.