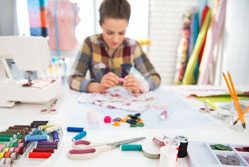 Despite the ever-increasing demands of modern life and our changing leisure habits, thankfully, many of us retain our love for our hobbies, But it seems we're a dying breed.
Research carried out by Santander, reported by the Mail Online in December 2013, suggested that a quarter of us listed watching TV as our favourite pastime, with just 5% playing a team sport. Only 4% practised a musical instrument, while fishing, once one of the nation's favourite pastimes, was enjoyed by just 2% of the population (the same percentage that still collected stamps or coins).
According to the Mail: "Campaigners [the National Obesity Forum] said the demise of traditional hobbies was symptomatic of a society preoccupied with celebrity and reality TV." Interestingly, researchers identified lack of cash as the main reason why 10% of us has given up our favourite hobby, a stark reminder of the austere times in which many of us live.
Top 20 hobbies
In April last year the Mail Online reported that almost half of the UK's 20 "favourite hobbies" now involve the internet (and you can stop smirking at the back). It said: "Facebooking, tweeting, online gaming, bargain-hunting and internet dating have exploded in popularity as traditional pastimes like stamp collection and trainspotting decline."
Travelling, baking and sport still occupied the top three spots, but trainspotting or birdwatching didn't feature at all. Sewing and knitting made number 10, and arts and crafts were number 7 (with the Mail questioning TV's absence from the top 20).
Many Britons are earning much needed additional income from their hobbies. As reported by David Prosser in The Independent in October last year: "Research by the payments company Visa suggests that 9% of adults now makes money from a hobby, producing an £8bn windfall for the economy.
"These hobbyist business founders are cashing in on their love of everything from photography to jewellery-making and from sport to baking. And while they may not be pursuing these enterprises full-time, they are making decent incomes."
The "typical hobbyist businessperson in the design sector", he says is "making more than £3,700 a year, according to Visa's research. The figure for photography is more than £2,400." Prosser says that although this isn't enough to "give up the day job", for some it represents the "first few baby steps towards self-employment".
Key enabler
It's hardly surprising that the internet is the key 'hobby-into-business' enabler, allowing hobbyists to sell to a mass audience while minimising their sales and marketing costs. "A whole ecosystem for this type of small business has developed almost without mainstream commerce noticing… with specialist marketplaces now operating for almost any type of business you can think of… [and] many hobbyists trading in this way [thinking] of themselves as running a small business," while having built up their businesses with "little or no support from government agencies."
He concludes: "Those making money in this way are displaying all the entrepreneurial characteristics we value in more conventional business founders, they're making a substantial contribution to the economy, and they've done it with no help. This isn't the march of the makers that the Chancellor once spoke of, but the march of the micro-entrepreneur is to be applauded nonetheless."
Blog written by Start Up Donut editor and freelance SME content writer Mark Williams.