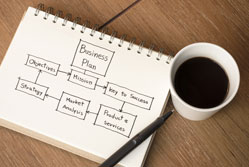 Not only is a business plan the single most important document you need in order to attract potential investors to help fund your business, it also lays out clear objectives and strategies that act as a blueprint for your success.
Research has shown that start-ups who have a business plan raise twice as much capital as those without one so that is a testament to the importance of getting it right. So, here is some advice on the key points you should keep to ensure that you have a clear, well-structured and effective business plan.
1. Don't underestimate the importance of the executive summary
The executive summary forms the introduction of a business plan and if not adequately presented could also be the last part your potential investor reads. Here, present the outline of your business, a description of the product or service you're offering and details about the investment you're seeking. Make it clear and concise – you have one chance to capture their attention. This section is you making your 'first impression' so it pays to get this right, literally.
2. Be realistic about your financial projections
Although these numbers are estimates, you need to be able to justify them in detail to potential investors so be realistic! Projections must accommodate for employee salaries and overhead costs, revenue and sales, the percentage of return you expect from your product/service and your break-even point, ie the point when gains will equal losses.
3. Be thorough about your target markets
Explaining in detail who your target market is will demonstrate your business's chances for success to investors. Be clear about the strategy you'll employ to attract their attention and consider what areas within that market you'll focus on to drive exposure and sales.
Knowing your customer is key to any successful business. Impress investors by showing them how much you know about spending in your target market. Also, if you have direct competitors, don't be afraid to bring them up proactively. Use this knowledge to your advantage to present your strategy that ensures that customers will buy from your over your competitors – the research and insight you demonstrate by offering this information is sure to impress investors. If they have confidence in you, they'll have confidence in investing in your business.
Copyright © 2014 Mark Edwards, General Manager at www.rocketlawyer.co.uk.
@RocketLawyerUK