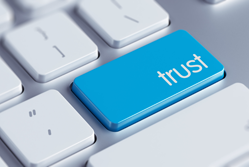 Although consumers have been shopping online for many years now, they still want reassurance that they're safe to shop on a website they may not have visited previously.
What are trustmarks?
A web store with a trustmark such as Norton Secured, McAfee Secure or TRUSTe, makes shoppers feel safer. A site displaying such a seal means that the issuer:
has verified it as a legitimate legal business entity.
scans the website daily for thousands of known malware exploits, malicious links and phishing scams.
A trustmark is more than just a logo. You paste a block of code into your site that shows dynamic content from the issuer, including the date the site was last verified as secure. When a customer hovers over a trustmark or clicks on it, they see full details about the website, which can be independently verified on the issuer's own site. When a website is compromised and this is detected in a scan, the seal disappears until the business rectifies the issue.
Trustmarks are far more important to small businesses than to well-known brands. Amazon, eBay and John Lewis, for instance, don't display a trustmark because people are already confident that they are serious about security with a proven track record. However, a small retailer with an unknown brand doesn't have the same luxury, so needs to do all it can to reassure shoppers that it is trustworthy.
"Concerned visitors don't become customers. 45% of people have abandoned online shopping carts due to security worries" – Mcafee Secure.
How do trustmarks help?
Shoppers are now much more familiar with a number of popular computer security companies as a result of their anti-virus software being installed on new computers as standard. A consumer who's already placed their trust in any of these companies will readily extend that trust to a website that's been accredited as secure by those same organisations.
An eConsultancy consumer survey in 2014 found the most widely recognised trustmarks are from companies who are also strong in the consumer security software business, with 35.6% of shoppers choosing Norton Secured and 22.9% choosing McAfee Secure as their preferred mark of safety.
Other measures
A trustmark is just one tool in a suite of measures online businesses should use to build customer confidence.
You also need to display your secure payment processor's logo (eg PayPal, Sage Pay or World Pay). This further builds the consumer's confidence that their financial transaction will be handled by a well-known PCI DSS-compliant solution with robust protection against anti-fraud and identity theft.
It's equally important to have a well-designed website that's easy to navigate, with detailed product descriptions and quality imagery. Your business contact details should be clearly visible and all enquiries must be handled in a timely manner.
All of these aspects contribute to establishing your business as trustworthy and overcoming a customer's fear – which could otherwise lose you the sale.
Copyright © 2015 Simon Horton of hosted shopping cart and ecommerce plug-in provider ShopIntegrator.