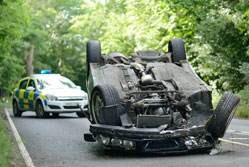 At the beginning of the year, a motorist from the Isle of Wight was given a six-year jail sentence after being found guilty of causing a fatal crash. The court heard the 27-year-old driver had been checking a text message from his wife on his mobile phone when he drifted onto the wrong side of the road and collided head-on with another vehicle.
Sadly, this case isn't isolated. A recent report from road safety charity BRAKE found that drivers speaking on mobile phones, whether on a hands-free or hand-held device, are four times more likely to be involved in a crash that causes injury. Moreover, their risk of crashing remained higher than normal for up to 10 minutes after the call has ended.
Smartphone addiction
As for drivers reading or writing messages such as texts or emails, they're 23 times more likely to crash than a motorist paying full attention. And all this comes at a time when UK experts have warned we're seeing increased levels of smartphone addiction, something that many small-business owners can relate to.
Of course, it's not just the most tragic of cases that could affect you if you own a small business. Imagine, for a second, that you lost your licence after accruing too many points. The effects of such a ban can be disastrous. Whether you're a plumber, an architect or a florist, the majority of business owners rely on their vehicle to do their job. Without it, most businesses would undoubtedly suffer a serious loss in income, as well as reputation.
Small-business owners also have a legal responsibility to ensure that employees don't use their mobiles while driving. This can include anything from turning an alarm off to checking Twitter. A sobering thought.
Three top tips
There are solutions though. Here are my three top tips for being safe on the road:
1. Switch off and divert calls
For those who have a colleague they can divert their calls to, this can be a simple solution. Don't compromise on the quality of your response though. Make sure that whoever answers your calls is doing so in a professional and friendly manner. If, however, you work alone, activate your voicemail and switch off your mobile entirely. While not ideal from a business perspective, doing so will at least ensure you're free from distractions.
2. Disable your mobile
Technology to disable certain smartphone functions – such as making calls or sending text messages – is now filtering its way into the UK. Apps such as No Text and Drive and iTextGuard can sense when you're travelling over a certain speed and will automatically prevent you from sending a message. Likewise, The Safe Drive App goes one step further and prohibits incoming and outgoing calls, internet browsing and other functions, while still allowing you to make emergency calls.
3. Use a call answering provider
This is a particularly popular option for sole traders or businesses that don't have full-time employees to whom calls can be directed. Select a provider that can offer flexibility and reliability, as well as represent your business to the high standard that you would yourself, then you can drive with peace of mind, eyes on the road, hands on the wheel with your business all taken care of.
Ultimately, safety has to be your priority. Don't allow yourself to be sidetracked. A business deal to die for? I don't think so.
Copyright © 2015 Jon Williams, client support manager for call-answering service provider Moneypenny.