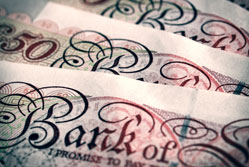 Every business manager will know what a struggle money can be and one of the most difficult decisions can be how to get the funding needed to help your business grow. The banks aren't always an option and many people don't want to give up control of something they've worked hard for, but being the most obvious choices – what else is left?
When it came to starting Taxicode, co-founder Nigel and I decided the best option would be to fund it ourselves. This meant control of the business was not split between investors; big loans were not hanging over our heads; and while growth has been slower compared to our externally funded competitors, it has all felt much more ours and we've been able to act out our vision as we intended. This is not for everyone, of course, but as we had finances built up from previous business ventures, it worked for us. Several years on and we're generating decent turnover and achieved £2m in bookings last year.
Alternative funding options
Many of us will be familiar with the concept of crowdfunding by now. It allows members of the public to put money towards a project, usually receiving something back in return depending on the amount they've put forward. Technology, video games, community projects, events and films have all found funding this way. Crowdfunding also helps build audience engagement with your brand early on, something not necessarily true of other options.
Peer-to-peer and peer-to-business lending work in a similar way to crowdfunding, but for a loan rather than to raise equity. This means that larger sums of money can be raised in one go, instead of waiting for individuals to put the money forward.
Business managers can also make the most of the resources they already have. Invoice finance allows business to raise finance against any invoices they have waiting, drawing down the balance when customers pay, whilst pension-backed lending allows business owners to unlock the value of their own personal pension to finance the company.
These options can help to create a steadier cashflow for the business – while pension-backed lending is more suited to those that have already spent several years building up their finances, these options can be used throughout the business's life cycle to combat any financial struggles encountered.
Risk and reward
Whatever route you chose, there will inevitably always be risk, but business managers should not feel deterred just because traditional options don't appeal. There's something out there to suit everyone's needs.
Copyright © 2015 Jonathan Kettle, co-founder and director of nationwide online taxi-booking service Taxicode.