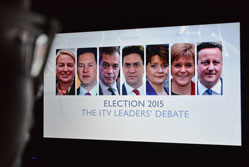 The UK's main political party leaders could be much less popular among the nation's small businesses than they'd like. According to a survey carried out by Crunch Accounting, based on responses from 500 freelancers and micro businesses, 27% "would not hire any of the political party leaders if they applied for a position".
More than a fifth (22%) would hire David Cameron, while only 13% would give a job to Ed Miliband. The SNP's Nicola Sturgeon came third (12%), ahead of Liberal Democrat leader Nick Clegg (11%).
Nigel Farage has said he'll stand down as UKIP leader if he loses the South Thanet election, but he's unlikely to try to find a job with a UK SME if he does. That's probably just as well, with only 9% of those polled saying they would give him a job. Far fewer (4%) would employ Green Party leader Natalie Bennett, fewer still (2%) Plaid Cymru leader Leanne Wood.
The party of small businesses?
The survey also asked respondents which party best understands the needs of small firms and the self-employed. Almost a third (32%) said the Conservatives, with Labour attracting a 25% share (Liberal Democrats 10%; UKIP 8%; Greens 4%; SNP 2%; Plaid Cymru 1%).
The UK's main political parties have been at pains to highlight their pro small-business credentials. The Daily Telegraph, of course, recently published a letter reported to be signed by 5,000 "business owners" warning that "a Labour government would be 'far too risky' for the economy". The stunt was organised by the Tories and their small business ambassador Karren Brady, and in truth many signatories were not business owners.
UKIP also claims to be the party of small businesses. In April, its deputy chairman Suzanne Evans commented: "The Conservatives are in the pockets of the multinational corporations and Labour has become the anti-business party. We have a fully funded £1.2bn plan to provide 20% rates relief on premises with a rateable value up to £50,000. That will potentially cover 90% of business premises."
Working for a small business?
Sadly, none of the UK's main political leaders has ever worked for a small business or been self-employed. After leaving Brasenose College, Oxford, Eton-educated David Cameron joined the Conservative Research Department and became a special adviser. After a seven-year stint as Carlton Communications director of corporate affairs, he became an MP in 2001.
Like Cameron, Ed Miliband studied philosophy, politics and economics at Oxford (Corpus Christi College). After graduating, he worked in TV as a political researcher before becoming a Labour Party researcher, soon rising to chair HM Treasury's Council of Economic Advisers. He became an MP in 2005. Nick Clegg studied social anthropology at Cambridge and before becoming an MP in 2005 he was a lobbyist, then FT journalist and then MEP. Nicola Sturgeon studied law at Glasgow University and worked as a solicitor at Drumchapel Law Centre. She was elected to the Scottish Parliament in 1999.
Grammar schoolboy Nigel Farage didn't go to university, but nonetheless enjoyed a successful career in the City as a commodities trader before becoming an MEP in 1999. Natalie Bennett was formerly editor of Guardian Weekly and wrote for The Independent and The Times, while Plaid Cymru's Leanne Wood was a probation officer before becoming a political assistant and lecturer in social policy at Cardiff University.
If you still haven't decided which party you'll vote for tomorrow, Real Business Rescue (the "Company Recovery & Closure Experts") has created a clever online questionnaire, so you can find out which party best represents your opinions on key issues. Why not take the test?
Blog written by freelance editor, copywriter and Start Up Donut editor Mark Williams.