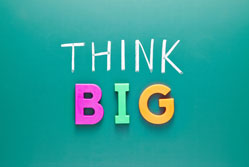 Whether you currently run your business from your home or even your local coffee shop, all businesses must start somewhere. Giving the impression that your business is larger than it actually is could help you reach more customers and compete with the big players in your market. These four tips could help you to do just that...
1 Get online
Some 90% of the UK's population are active online, yet, surprisingly, 45% of SMEs in the UK still do not have a website. When a potential customer hears about your business the first thing they will do is search online, so it is important to have an online presence. Having a website will give your business the opportunity to reach more people and can include features such as giving visitors the option to sign up to your newsletter. When designing your website think about where you want your business to be in the future and not where it is at the moment. Just because you are a small business doesn't mean your website can't make a big impression.
2 Be smartphone savvy
With Google's mobile-friendly update having just rolled out it has never been more crucial to have a mobile-optimised website. Some 80% of internet users own a smartphone, but almost half of SMEs have a website that is not optimised for smartphones. Websites optimised for smartphones are designed to fit all screen sizes from iPhones to Androids. When designing your website, be aware that smartphone websites are generally much simpler than regular websites, so simplify and then simplify again.
3 Use a Skype number
Small-business owners often find that they are on the go a lot, whether it is meeting a client or travelling to a training course. You may think that it makes sense to use your mobile number as your main point of contact, however, using a landline number instead gives the impression that you are based in an office and thus own a larger company. An easy way to get around this problem is to have a Skype number. For a small fee you can have a country and area code of your choice and you can answer all calls via your smartphone, tablet or laptop.
4 Be more social
Social media provides brands with a free outlet to communicate and engage with potential customers. All big brands are expected to be active on the main social media sites such as Twitter and Facebook. Depending on your industry, you may want to make other social channels a priority. For example, if you work in photography, visual platforms such as Instagram and Pinterest could be the most beneficial. Aim to post several times a day and make your business an interesting one to follow by asking questions, providing tips and interacting with your followers.
Copyright © 2015 SJD Accountancy