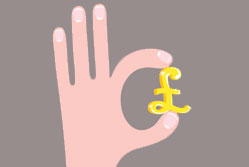 Whether you become a sole trader (ie are self-employed) or set up a partnership or limited company, starting your own business is relatively simple, quick and inexpensive, which partly explains why so many people continue to do it. Last year, a record-breaking 581,173 new businesses were registered at Companies House. Per capita, more new businesses are started in the UK than in the USA.
However, the survival rate for new businesses remains low. About half of all new UK businesses fail within three years and 90% are gone within 10 years. And only 4% of start-ups achieve a million-pound turnover after three years. For those who survive the three-year test, achieving significant growth remains a huge challenge, with many small firms staying more or less a similar size.
Why do small firms fail to grow?
Some small businesses are restricted by business models that can't be scaled, while others are run by people who simply don't have the know-how, experience, drive, vision or leadership skills to grow a business. Some businesses fail to attract the right people or find the right strategic partners to enable growth.
For most businesses, organic growth by reinvesting profits will only take you so far, usually at a much slower pace. Without doubt another reason why some small businesses fail to grow is lack of funding.
If you really want to take your business to new heights, external investment or funding can unlock the door. I co-founded ezbob in 2012 and since then funding from institutional investors and the UK government-supported Angel CoFund has enabled us to grow our business so that, alongside our sister company, Everline, we've now provided more than 6,000 business loans and lent more than £60m to fellow UK small businesses.
Business growth funding options
Business angel or private equity investment might not be available or preferable (not everyone wants to concede ownership or control in exchange for investment). Grants from public sector organisations exist, but they're few and far between.
You might think you could turn to your bank for a loan to help fund your growth ambitions, but there are no guarantees your application will be approved. That's partly why 'alternative sources' (ie not from banks) now supply 25% of lending to UK SMEs, according to an FT.com report in February, which also said that many smaller businesses are discouraged from applying for bank loans as a result of previous rejections or the cost implications.
The most suitable business growth funding option for you will be determined by how much money you need, when you need it, your turnover, whether you're prepared to put up any assets as security or concede any ownership or control. These are all key considerations.
Trying to grow a business inevitably involves some risk and it takes time and a lot of hard work, but the results can make it worthwhile. Above all, you need to ensure you get the funding you need to match your circumstances and ambition.
Copyright © 2015 Tomer Guriel, co-founder and CEO of ezbob. Follow ezbob on Twitter.