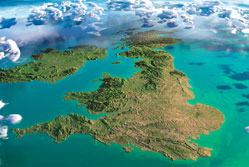 When it comes to establishing your start-up, choosing the right location is one of the hardest decisions you'll have to make. Many enthusiastic business owners feel drawn to London because that's where all the action is, right? Wrong. Well not all of it anyway! There are many fantastic locations around the country that could be just the place to get your start-up off the ground – here's why…
Local talent is better
Believe it or not, not all of the nation's talent has flocked to London. Among other things, the UK is home to many fantastic universities based all around the country, which means that there are hundreds of graduates looking for their first job outside of the capital. Speaking from experience, I've had no trouble finding extremely talented employees outside of London for my Midlands-based business.
It's more cost effective
We've all heard horror stories about the ever-rising (and quite frankly ridiculous) cost of rent in London. By moving to one of the UK's other major cities, such as Birmingham, Manchester or Leeds, not only is rent more affordable, but you'll also save on rising London transport costs. This means that there'll be extra funds available that can be put straight back into the business – winner!
More central location for clients
Although it might seem like it at times, the world and his dog aren't all based in London. Because my company, sales-i, is based in the Midlands, we can easily visit existing or prospect customers whether they are north, south, east or west. We can get to every corner of the country with little hassle. By choosing to establish your start-up in a more central location with great transport links, you'll have much more convenient access to your clients and prospects, wherever they are.
The cloud means you can work anytime, anywhere
Developments in cloud technology mean you don't even need to have a physical office. My business partner, Kevin, runs our US office from Chicago and the rest of my team is in Solihull, but because our business is cloud-based, it doesn't matter where we are, we can easily collaborate on projects and communicate effectively. So forget London, with the right technology you can work from anywhere.
Now I'm not saying that London's not a great place to be. It is and there's plenty of investment going into the capital's tech scene, but that doesn't mean that's where you need to be. Think outside the box. Make use of the highly skilled individuals on your doorstep, invest in your business with the money you are saving on rent, visit customers and prospects more regularly, and watch your business flourish.
Copyright © 2015 Paul Black, CEO of sales intelligence software supplier sales-i.